11 Pop-Culture Books to Entertain You This Fall
We've already recommended a lot of books for you to read this fall, but here are eleven more for entertainment junkies.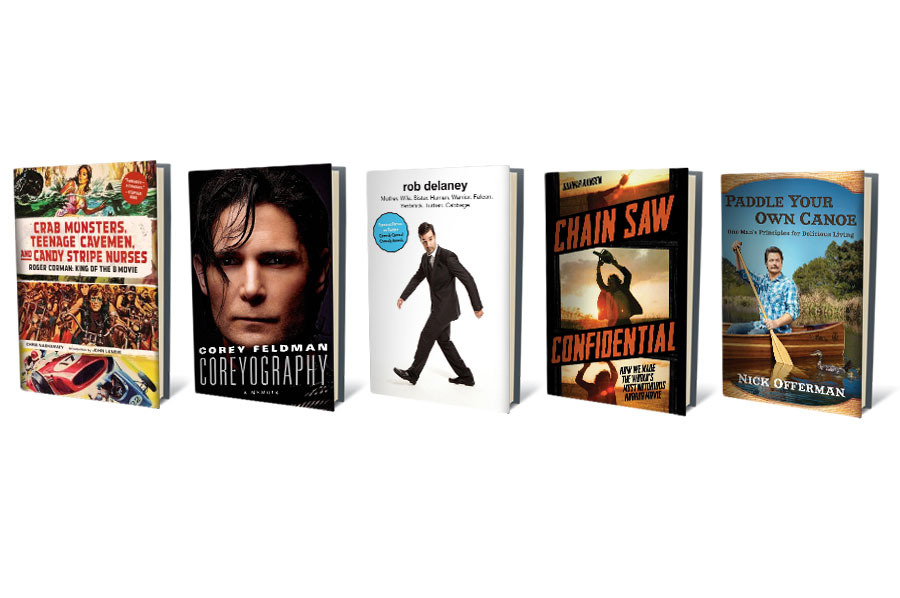 Fall won't officially descend upon us until September 22, but — thanks to the many, many, many excellent book recommendations offered up by New York Magazine — savvy book-reading squirrels (i.e., people) are already storing up tasty acorns (i.e., books) to consume as the weather turns nastier. We've spotted ten other upcoming new titles and a notable reissue that entertainment junkies might also want to gather up this autumn.
Hollywood Said No! Orphaned Film Scripts, Bastard Scenes, and Abandoned Darlings From the Creators of Mr. Show, by Bob Odenkirk and David Cross with Brian Posehn
A comedic compilation of rejected thought droppings (Bob and David Make a Movie? No, not again ... ) from Mr. Show creators Odenkirk and Cross that will remind readers of the tough truths of Hollywood, and also that it's time to revisit Run Ronnie Run! (Available now, Grand Central Publishing, $16)
Crab Monsters, Teenage Cavemen and Candy Stripe Nurses — Roger Corman: King of the B Movie, by Chris Nashawaty
Featuring interviews with Martin Scorsese, James Cameron, Francis Ford Coppola, Jack Nicholson, and other A-listers, this smartly designed coffee table tome is part oral history and part visual chronicle of the prolific producer's proudly schlocky works, including such gems as The Wasp Woman, Bloody Mama, and Deathstalker. (Available now, Abrams, $35)
Chain Saw Confidential: How We Made the World's Most Notorious Horror Movie, by Gunnar Hansen
The true story of the making of the 1974 film Texas Chain Saw Massacre, as told by the actor and author who played Leatherface nearly 40 years ago. (September 24, Chronicle Books, $24.95)
Paddle Your Own Canoe: One Man's Fundamentals for Delicious Living, by Nick Offerman
Just try to resist the myriad manly charms of Parks and Recreation's Ron Swanson after reading his memoir about woodworking, eating, acting, cultivating the perfect moustache, and seducing Megan Mullally. (October 1, Dutton, $26.95)
The Disaster Artist: My Life Inside The Room, the Greatest Bad Movie Ever Made, by Greg Sestero and Tom Bissell
How is it that a total flop became a much-loved cult classic? You can thank the intrepid persistence of actor turned author Sestero and his acting-school pal Tommy Wiseau for the stunningly terrible and highly quotable movie that, impressively, managed to make zero sense — and a mere $1,800 at the box office. (October 1, Simon & Schuster, $25.99)
The Wes Anderson Collection, by Matt Zoller Seitz
For an in-depth dive into all things "Andersonian," check out this visually striking tome in which the cult director discusses the ephemera and artistry behind his films with New York television critic Seitz. (October 8, Abrams, $40)
Making Masterpiece: 25 Years Behind the Scenes at Masterpiece Theatre and Mystery! on PBS, by Rebecca Eaton
Can't wait for Downton Abbey to return to American airwaves? Tide yourself over with these behind-the-scenes tales of non-ribaldry from the Emmy-award-winning Eaton, who has helmed Masterpiece Theatre for nearly three decades. (October 29. Viking Adult, $29.95)
Coreyography: A Memoir, by Corey Feldman
Corey Feldman is now 41, which means he's old enough to get away with reflecting on his drug abuse, rehab, the other Corey, and the entertainment business in a "tale of survival and redemption." (October 29, St. Martin's Press, $24.99)
This Is How You Lose Her, by Junot Diaz, deluxe edition illustrated by Jaime Hernandez
This powerful collector's-edition reissue of Diaz's best-selling story collection about love and loss comes with gorgeous full-page original illustrations from comic artist Hernandez, of Love and Rockets fame. (October 31, Riverhead, $40)
Hip-Hop Family Tree, by Ed Piskor
Comic-book artist Piskor delivers an expansive and engrossing graphic history of the formative years of hip-hop, from Grandmaster Flash and the Furious Five to the kids who would become Run-D.M.C. (November 2, Fantagraphics, $24.99)
Rob Delaney: Mother. Sister. Human. Warrior. Falcon. Yardstick. Turban. Cabbage., by Rob Delaney
The first book from the Twitter funnyman, a memoir, had us with its social-media-bio-mocking subtitle — and it only gets better from there. (Spiegel & Grau, November 5, $24)