Allison Janney Joins Joan Didion Adaptation
She will star opposite Christina Hendricks in <em>A Book of Common Prayer</em>.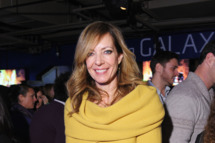 Campbell Scott's film adaptation of Joan Didion's 1977 A Book of Common Prayer now has both its female leads. Back in March, Christina Hendricks was cast as one of the story's central characters, a woman searching for her daughter in a fictional Central American country on the verge of revolution. Now, Variety reports that Allison Janney has been tapped to portray the book's other narrator, an anthropologist who married into the country's ruling family. Scott himself will play Hendricks's husband, with his The Innocent co-star Hart Bochner portraying the missing daughter's father. It's not clear how Didion's masterful narration will translate on screen, but in the hands of this cast, it sounds like a sweeping — if melancholy — good time. Or at least something to tide us over until Didion's new political thriller, As It Happens, comes out.