Animation Master Hayao Miyazaki Plans to Retire
<em>The Wind Rises</em> could be his final film.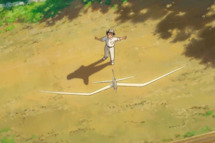 As his The Wind Rises plays at the Venice Film Festival, there's news that animator Hayao Miyazaki plans to end his career. Studio Ghibli head Koji Hoshino made this announcement to the press there on Sunday: "Miyazaki has decided that Kaze tachinu (The Wind Rises) will be his last film, and he will now retire." For further details, fans must wait for Miyazaki himself to make a follow-up statement from Tokyo next week. Though the toonmeister has tried leaving the industry twice before, we can only (perhaps futilely) hope that his resolve won't stick this time either. Wind was well-received at Venice — if you've seen the trailer, that's really no surprise.