Ben Affleck's Batman Will Be a 'Tired and Weary' Guy
Not like Batman's ever exactly jumping for joy, but ...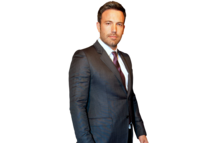 Before we learned that Ben Affleck would play Batman in Zack Snyder's Man of Steel sequel, we knew only a couple things: This Dark Knight would spar with Superman, and he'd be "in the late 30s or around the 40 mark ... established and rugged." Now we know, per Warner Bros. CEO Kevin Tsujihara, that this Batman is "kind of tired and weary and seasoned and been doing it for a while." It's not like Batman's ever been a happy-go-lucky superhero, but sure, this helps us picture Batman vs. Superman a tiny bit better.