Green Day's Billie Joe Armstrong Joins Indie Drama Like Sunday, Like Rain
Alongside Leighton Meester.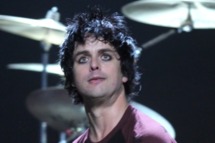 After eleven albums, a Broadway show, an onstage meltdown, rehab, and a cameo as himself in This Is 40, Billie Joe Armstrong will get to realize his lifelong dream of acting in an indie drama written and directed by the guy who got killed after receiving the "does he LOOK like a BITCH!!" speech in Pulp Fiction. The movie is Like Sunday, Like Rain; Armstrong will play boyfriend to Leighton Meester's struggling musician character. It's the fourth film from Frank Whaley, who previously made Joe The King, The Jimmy Show, and New York City Serenade. Emotional performance of "Good Riddance (Time of Your Life)" at the wrap party: all but guaranteed.