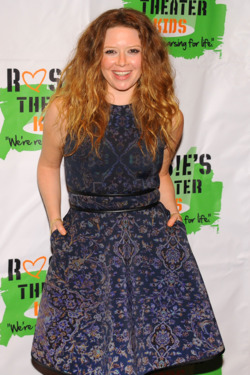 Natasha Lyonne Just Joined Twitter and Is Already Addicted
Stop what you're doing and go follow Natasha Lyonne on Twitter; she just joined. "They actually sent Kevin Spacey to my house with a swat team, and I was just forced onto Twitter by Netflix," she joked last night, at a gala for Rosie's Theater Kids. (If you aren't already aware, Netflix has the OITNB cast tweeting — a lot. It's fun.) Don't fall for the unverified Lyonne imposters, though. "You'll know [it's me] by the picture from Pee Wee's Playhouse, and also by the filthy things that are being tweeted. I've only been on for a day."
So is she already addicted? "I sort of have an addictive personality, as we know, so it's already not going very well." On her list of concerns: "I'll lose any sense of eye contact in the future; I'm already nervous that I didn't get a chance to charge my phone. Between that, and the Words with Friends, and Instagramming root beer, it can be a nightmare." But fear not: She's pushing past the social-media anxiety. "I'm so anxious all the time and in such an uncomfortable internal condition at all times that I don't really let it affect my day anymore. I feel like that's the joy of aging. Now I've just gotten comfortable with the ongoing discomfort. And I just keep showing up."
Photo: Paul Bruinooge/Patrick McMullan