Godspeed You! Black Emperor Won the Polaris Prize
They seem sort of iffy on it.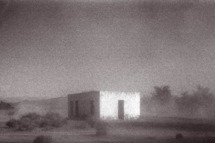 Even though they had some concerns about the corporate-sponsored gala and didn't show up. (METZ, Purity Ring, and everyone else but Tegan and Sara did.) Godspeed You! Black Emperor said the fancy Canadian prize money will go to fund musical education in Quebec prisons, and they wrote a whole blog post to explain their issues with the award. To give you the idea, it's signed: "Apologies for being such bores, we love you so much / our country is fucked."