The Homeland Season Three Premiere Leaked
Over 100,000 of you downloaded the BitTorrent this weekend.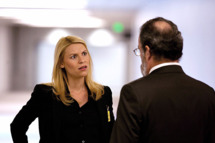 Seems all those teasers (see: one, two, three, and four) for the upcoming season got everyone really, really excited for new episodes of Homeland. So excited in fact that when an alleged "screener handed to critics at July's Television Critics Association event in Los Angeles" made its way to BitTorrent over the holiday weekend, fans took the opportunity to watch the premiere a full month ahead schedule. Likely, the promise of Saul, Carrie, and Brody onscreen for more than 75 seconds was enticing enough for everyone to overlook the fact that the circulating copy "is missing both the opening credits and a few special effects," as Variety reports. There's still no word from Showtime on what will happen to their September 29 debut, but according to Deadline, "producer 20th Century Fox has its anti-piracy unit working on the issue," now that over 100,000 users have pirated the episode.