Justified Adds Three New Cast Members
Michael Rapaport, Alicia Witt, and Edi Gathegi.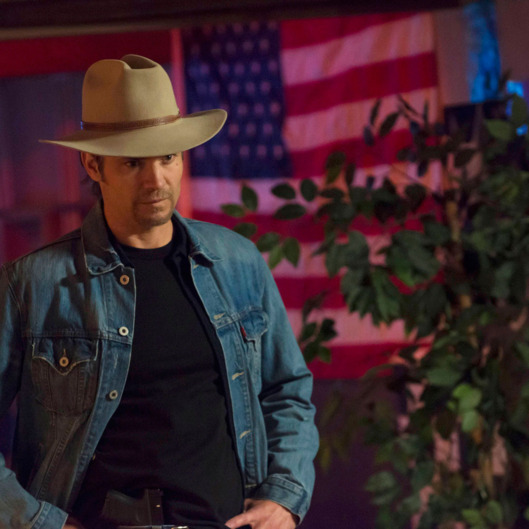 Justified showrunner Graham Yost is making good on his plan to integrate more of Elmore Leonard's characters into the show's forthcoming seasons following the creator's passing earlier this year. FX's outlaw drama has added three new cast members to its fifth season, all part of the fictional Crowe family, which Yost told Deadline "is a big part of [Leonard's] world."
TV Line reported that Michael Rapaport will play ex-convict and gator farm owner Dale Crowe, Jr., a "smart, ruthless and charismatic patriarch of a Florida crime family who will face off against Raylan Givens (Timothy Olyphant) in the upcoming season." Playing Crowe's smart, sexy paralegal sister Wendy is Alicia Witt, a character who "dickers with Raylan to cut a nice deal for Dale, in exchange for essentially nothing tangible, and enjoys outmaneuvering the Kentucky lawman," according to Deadline. Then there's Edi Gathegi (last seen on ABC's Family Tools), who'll play Jean Baptiste, a Haitian criminal in in charge of the Crowe family gator farm and former member of the Haitian secret police who "has a coldly merciless attitude when it comes to disposing of both gators and humans." Hold tight for all the Dixie drama when season five airs in early 2014.