Report: Laura Prepon Will Return to Orange Is the New Black for One Episode
But what about Piper and/or Nicky?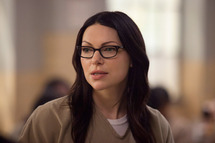 BuzzFeed's new word on Laura Prepon's Orange Is the New Black presence is that she'll "appear in only one episode of season two to wrap up Alex's storyline, according to a source close to the show." Prepon had a one-year contract and "in the end, didn't commit to more." Back to speculating about how this will play out — whether it means a shocking death or an escape or a transfer or what — and who will feel it worse, Piper or Nicky.