Toronto: Mad Men Mastermind Matt Weiner Cast Two More Sons in His First Movie
Fashion plate Arlo is back.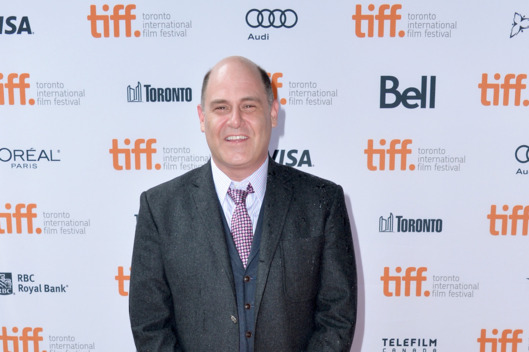 Do you remember Arlo Weiner, the pint-sized fashion plate who earned his own style spread in GQ at the age of eight? (The fact that he's the son of Mad Men creator Matthew Weiner probably helped with that bit of press.) If you've been missing Arlo's specially cultivated brand of preteen precociousness, you'll be happy to know that he turns up for a brief scene in his dad's directorial debut, You Are Here, which premiered at the Toronto Film Festival yesterday. "I just felt like Arlo was at a point where I knew he would be able to do this, and he's a very theatrical kid," Weiner told me at the movie's Soho House after-party. Weiner cast his son as a distinctly unfashionable Mennonite in the film, but never fear: Arlo's style sense remains strong, even if it's evolving from bow ties and crushed velvet smoking jackets into something different. "He's starting seventh grade, and it's trending more into rock and roll now," said Weiner. "He's not as dressy as he was, but he's hard-wired for that. I hope it doesn't go away."
Arlo isn't the only Weiner kid in You Are Here: His brother Ellis appears in the film, too, meaning Weiner has now cast all four of his sons in his on-screen projects. (Oldest son Marten plays Sally's friend Glen Bishop on Mad Men, while young Charles turned up in one season-two episode). "There's something sentimental for me, having them in my work frozen in time like that," admitted Weiner. Still, don't assume Weiner has gone soft: "If they stunk, I would have cut them out of the movie!" he laughed. "I can tell you that. I'm ruthless."
In addition to two of the Weiner kids, You Are Here stars Owen Wilson and Zach Galifianakis as manchild friends who return to their hometown after Galifianakis's father dies (where they tangle with his high-strung sister, played by Amy Poehler). "So many of the people that I work with on the show worked on the movie," said Weiner, who brought his cinematographer, editor, and production designer over from Mad Men. "I don't know how people make a movie in this time frame — 33 days! — without all that." When did he find the time to finish the movie, given that he squeezed the production in between seasons five and six of Mad Men? "I edited at the beginning of season six, while I was still just writing, and then I edited on Saturdays a lot," Weiner said, leaning forward with a twinkle in his eye: "It was my mistress."