Didn't Want to Hear Miley Cyrus Rap? Too Bad
"I back it up, cause I don't give a fuck." Here we go.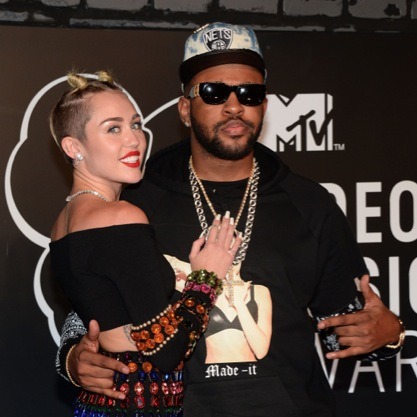 That 2010 video of a not-quite-de-Hannah-Montana'd Miley Cyrus getting super stoned seems so quaint these days! The summer of Cyrus twerking and talking about loving "hood music" has led here, to all-star producer Mike WiLL Made It's new jam, "23." MC M.C. opens with, "I'm in the club, high off purp with some shades on // Tatted up, mini skirt with my J's on." Miley's puffed-up faux swag (why is she repping Michael Jordan?!?!) doesn't get any easier to handle from there, but at least we've finally got a contender to face "Accidental Racist" in the Most Misguided Hip-Hop Moves of 2013 contest. And what a contest it'll be, with Miley going on to nasally intone, "I back it up, cause I don't give a fuck / If you a lame, that's a shame, you can't hang wid us," "I'm naughty by nature like I'm hip-hop hooray," and "I'm MC Hammer fly." Wiz Khalifa and Juicy "Bandz a Make Her Dance" J — rap's leading anti-grammarian — have verses, too. The song's from Mike WiLL Made It's upcoming album, not Cyrus's Bangerz.