NBC Wants Katherine Heigl Drama
It's set in the White House.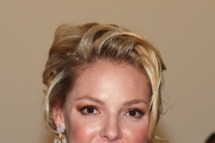 Katherine Heigl's CIA drama has landed at NBC, according to THR. Heigl will star as a gutsy CIA officer who winds up working in the White House, giving the president daily briefings. The show, from Castle's Alexi Hawley, is apparently described as "Scandal meets The West Wing," which means it'll include co-workers who are like family, stylized dialogue, stifled romantic love, and an almost lunatic devotion to the boss. If Josh Malina's character gets kill off on Scandal, we know where he should land next.