The Newsroom Renewed, Says Jeff Daniels
Still no word from HBO, though.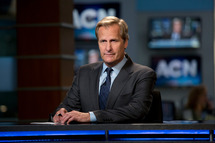 Jeff Daniels announced on Twitter last night that The Newsroom has been renewed for a third season. Creator Aaron Sorkin said a few weeks ago that HBO had asked for a third installment, and the show is doing well enough that a renewal seemed like a sure thing — except that HBO still hasn't confirmed that the show, or Sorkin, will be back. Recall, as Buzzfeed points out, that HBO usually renews its shows very early on, and Newsroom is just about at the end of its second season, so while a third go-round of the show seems likely, don't put all your chips on ACN just yet.