Paranormal Activity Producer Finally Gets a Chance to Direct
This will be Gregory Plotkin's directorial debut.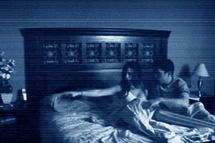 It seems that whatever second guessing the Paranormal Activity team had been doing is over now that Gregory Plotkin has been named director of the franchise's fifth installment. It's unclear if Plotkin is the same director that producers were said to "really like," but he's no stranger to the horror cash cow. According to Deadline, he served as editor and co-producer on the last three Paranormal Activity films as well as the upcoming spin-off The Marked Ones – which means he's plenty familiar with that bluish security footage.