Nick Offerman and Aubrey Plaza on Their Sad Life Without Chris Pratt at Parks and Recreation
Offerman sent Pratt a touching and very disgusting picture to let him know how much he was missed.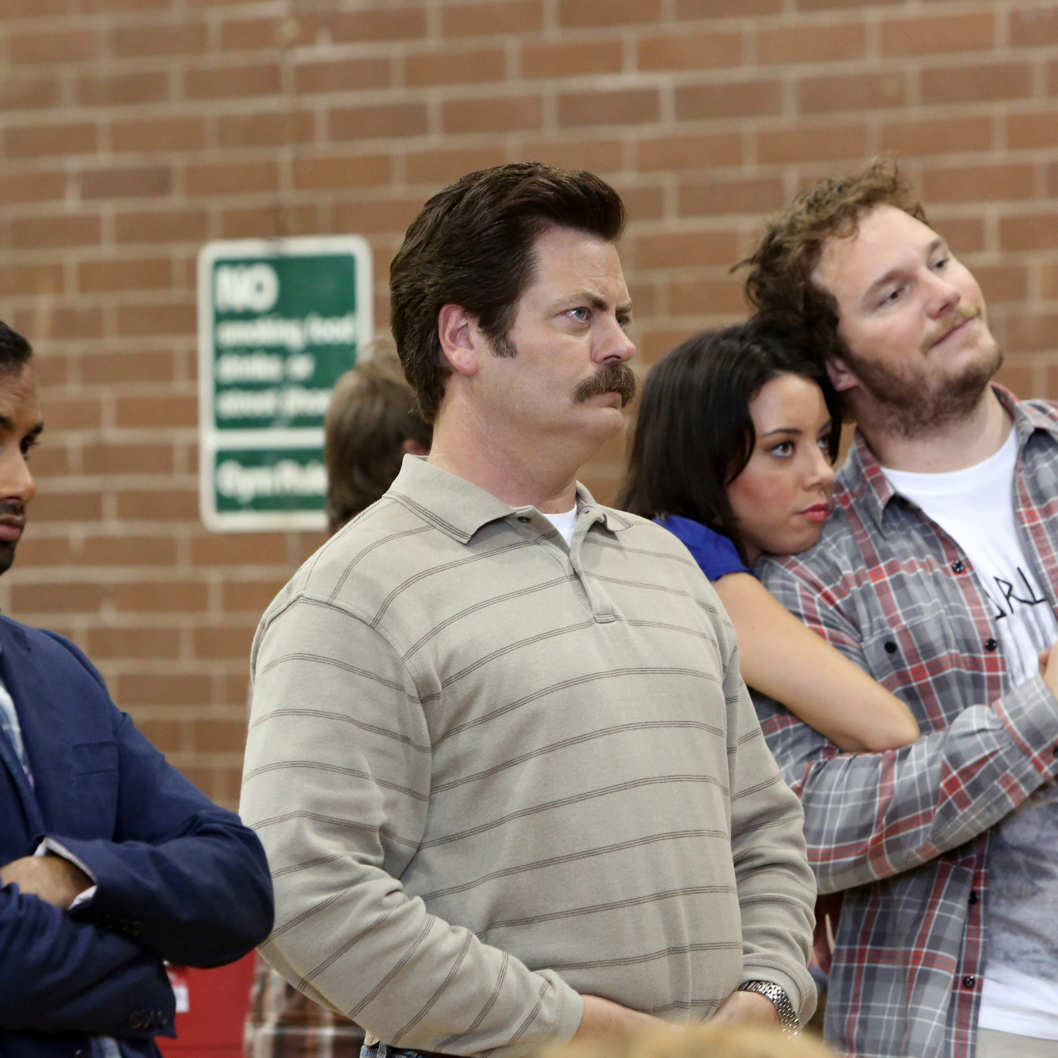 Chris Pratt has been absent from the Parks and Recreation set for the past several weeks while filming Marvel's Guardians of the Galaxy in London, but he's never far from co-star Nick Offerman's thoughts. "I just sent him an e-mail," Offerman told me when I recently visited the set. "Chris and I often take pictures of our poop and send it to each other."
Aw, that's so sweet and … wait, what? "This is not a joke," he said. "We do it when it's impressive. I just made a huge letter C. Sent it to Pratt. I miss him so much."
Offerman switched his focus from down in the toilet to up in the sky as he tried to express his emotions. "I mean, this is the greatest place in the world. Working here is the most delicious security blanket combined with an ice-cream cone, but without Pratt there's like a little bit of cumulonimbus cloud blocking the sun."
Rest assured, you'll see plenty of Andy — only thinner, blonder, more Star Lord–like — in tonight's joyful one-hour season premiere. The gang goes to London (making it easy for Pratt to join them) to accompany Leslie while she accepts an award from the International Women in Government organization. There, Andy meets a kindred spirit (played by guest star Peter Serafinowicz), which will explain why he won't be in Pawnee for a bunch of episodes.
Aubrey Plaza said Pratt has only been back once since they shot the premiere over the summer. "We're filming episode six or seven already and he hasn't been here. He's been gone and it sucks. Everyone misses him. He's like this beacon of happiness whenever he's around." She hasn't been coping well. "I'm trying to fill his shoes, but it's really hard because I usually have a really bad attitude."