Pirates of the Caribbean 5's Release Pushed Back Indefinitely
It will no longer come out during the summer of 2015.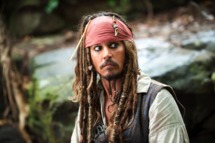 A couple of weeks ago, the fifth Pirates of the Caribbean movie got a title (Pirates of the Caribbean: Dead Men Tell No Tales), and now it gets a major delay. It was supposed to premiere on July 10, 2015, but The Hollywood Reporter writes that it has been pushed back indefinitely, at least beyond that summer. Script problems are said to be the issue. Disney probably didn't like the part that read, "And then the Lone Ranger shows up, and he and Captain Jack mock Native Americans and ride horses for a million hours."