Sigur Rós to Appear on Game of Thrones
They can probably just wear their own clothes.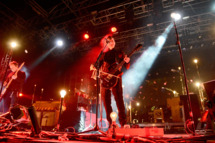 Entertainment Weekly reports Sigur Rós will appear in the fourth season of Game of Thrones. This comes after Snow Patrol's lead singer and Coldplay's drummer both appeared in episodes last season. EW can't expound upon what exactly the Icelanders will be doing, but we imagine they'd be perfect for a scene in which Jon Snow walks past a group of pale spirits chanting some ethereal song in a made-up language.