There Are Two More Dramas Coming From Smash Showrunner Joshua Safran
Cousin Debbie fans rejoice!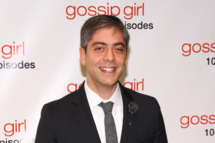 In the words of our favorite Smash recapper, fear not fellow royal children of Siam, for the Bombshell-shaped hole in your heart will soon be filled now that showrunner Joshua Safran has just sold two new dramas, neither to NBC. Variety reports that Fox got Royal, "a soap about a Kate Middleton-type caught having an affair ... thrown out of the royal family and forced to take the only job she can get, working as an assistant to temperamental and drug-addicted designer Thomas King." Then there's the Social Circle, which "centers on a group of twentysomethings who discover they really don't know each other at all," but is really "about the nature of friendship in the age of incessant texting, tweets and Instagrammed photos" that ABC scooped up. The latter will also see the reunion of Gossip Girl alums Safran and Stephanie Savage so we can only dream there's a Queen B type in headbands on the way.