Taye Diggs to Stop by New Girl This Season
To try to seduce Jess.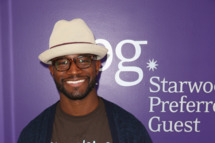 Last night on New Girl, things looked good with Nick and Jess, but that might not last too long. It appears Taye Diggs will be stopping by later in the season to try to literally charm her pants off. He'll play Artie, who (despite his nerdy name) is a ladies' man who meets Jess and Cece out at a bar, when the guys are out doing dude stuff. This is also the episode in which Damon Wayans Jr. makes his return as Coach. We hope no one gets tased.