Toronto: Harvey Weinstein Remembers the DiCaprio-vs.-Day-Lewis Rivalry on Gangs of New York
"I don&rsquo;t need a stunt man. Leo, do <i>you </i>want a stunt man?"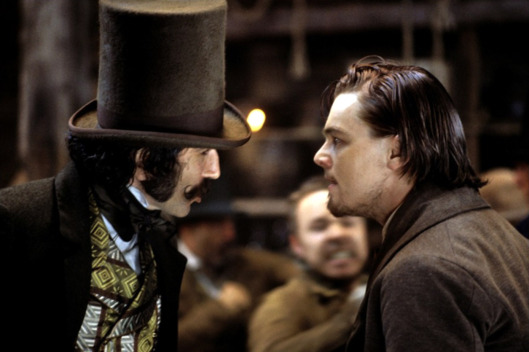 Harvey Weinstein was in a truth-telling mood the other night at the Toronto Film Festival: In addition to his fun anecdote about how he won the rights to the hottest movie at the fest, Weinstein told several stories about working with Martin Scorsese, specifically the epic clashes that occurred on the set of the 2002 epic Gangs of New York, which Weinstein produced himself. Yes, it has been eleven years since the big-budget period drama was made, but maybe the statute of secret-keeping limitations has elapsed in the interim, because Weinstein wasn't afraid to dish like a master on his clashes with Scorsese and the member-measuring contest that went on between the film's two stars.
"It was an epic battle making this movie," Weinstein confessed at his Tuesday night TIFF dinner, thrown by the Daily Beast. "We kept Cameron Diaz for four months — she had, like, two weeks' worth of work — only because it balanced the gigantic egos of Daniel Day-Lewis, myself, Leo DiCaprio, and Marty. You had to have some respite from these type-A males." If you'd like an example of those A-listers going head-to-head, Weinstein was happy to provide one: "Daniel Day-Lewis would go, 'I don't need a stunt man. Leo, do you want a stunt man?' I'm sure Leo probably wanted a stunt man, because when you have to fight Daniel Day-Lewis, Jesus Christ, you need two stunt men! But Daniel says, 'We don't need them, do we, lad?' And he says, 'Of course not.' It was this kind of chaos every day."
The film shot for months at Rome's famed Cinecitta Studios, and according to Weinstein, that presented its own problems, especially when it came to a giant sequence set on the embattled, mocked-up streets of nineteenth-century New York. "We needed an elephant on Tuesday at four o'clock in the afternoon," Weinstein recalled. "They assured us the elephant would be there, we called them on Monday and they said, 'The elephant will be there,' and then [the day we needed it], the elephant's not there. They literally brought a tiger in a cage. 'We said an elephant, and you gave us a tiger!' And they said, 'There are no elephants in Italy.' The end of that story is I said, 'Marty, just keep shooting,' and I called George Lucas and said, 'We're effed. We don't have a goddamn elephant. Tell us how to shoot it!' And it's the only CGI shot in the movie — they told us how to shoot it and how to create the elephant walking through the streets with [CGI]. Here's George Lucas telling us how to shoot this goddamn thing!"
Weinstein has earned the nickname "Harvey Scissorhands" for his tendency to cut films down in postproduction — a battle he's currently waging on the postapocalyptic South Korean film Snowpiercer — and during the editing room battle for Gangs of New York, he more than lived up to that moniker. "So Marty presents the final cut of the movie to me as a final-cut director and it's three hours and thirty-six minutes," Weinstein sighed. "If you thought there was action in Gangs of New York the movie, you should have seen that editing room! But we got the movie down to two hours and 36, and if you hear the DVD commentary, Marty goes into details about how we worked on the film. He's very complimentary, but at the same time, he says it was 'a process' — and normally, Marty doesn't like process. The end of the story, he says it himself, is that the movie was a big success: ten Academy Award nominations, it grossed $200 million dollars, it revived his career after a couple of mishaps."
So will we ever see Scorsese's original version of the movie? Weinstein laughs that now, after all those battles, Scorsese has changed his tune: "He says, 'You think I'm that fucking stupid that I'm gonna put out the director's cut at three hours and 36 minutes? That would prove Harvey's a genius!'" Added the veteran mogul, "By the way, that's how final cut works."