Two Demi Lovato Books on the Way
A book of inspirational quotes and a memoir. Which is really a book of inspirational quotes, too, when you think about it.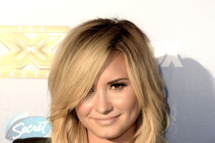 Demi Lovato has signed a two-book deal with Feiwel and Friends, an imprint of Macmillan, the publisher announced. The first book, which comes out in November, is Stay Strong: 365 Days a Year, a collection of Lovato's favorite inspirational quotes organized as daily affirmations. The second book, which does not have a release date yet, will be Lovato's memoir, the mere idea of which is enough to keep us strong for well over 365 days.