10 Pop-Culture Questions Answered by Vulture This Week
So how do you pronounce HAIM?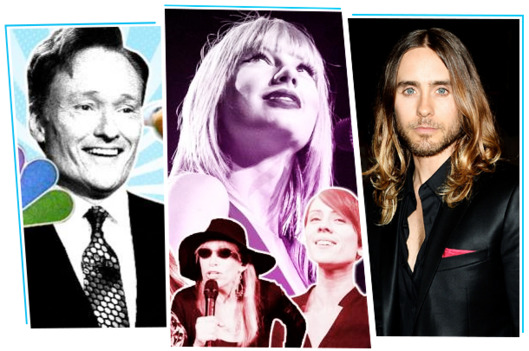 Every week, Vulture faces the big, important questions in entertainment and comes to some creative conclusions. This week, we talked Late Night history with Conan O'Brien, figured out who Taylor Swift's BFFs really are, and were charmed by Jared Leto. You may have read some of these stories below, but you certainly didn't read them all. We forgive you.
Q: Dear Vulture, I've been watching this TV show forever. Sometimes I don't know what I would do without it, but more and more I wonder why I still even bother. We've had some good times, we've had some rough times — isn't it worth sticking it out at least a little longer? Sincerely, Dependent on Dexter
A: Dear Dependent on Dexter: We understand the frustration of loving a show that's been on for too long. Let Margaret Lyons help you navigate this confusing time. She wrote, "I used to love these shows! And if you love something, don't you want it to be around forever? Sort of — except forever's not really an option. No show can stay good in perpetuity, even when that show is engineered for longevity: Even an O.G. like Law & Order, television's most stable workhorse, eventually ran out of steam. TV shows are designed to end (well, not counting The Simpsons), and the more consciously they're designed to end, the better."
Q: It seems like Taylor Swift has a lot of BFFs, but who are her true BFFs?
A: Good question, seeing as T. Swift introduces every special guest on her Red Tour as at least her "good friend," if not her "best friend." We looked at some of her Red Tour special guests, and tried to figure out just how close she is with each BFF.
Q: What's the latest from the Toronto Film Festival?
A: First we gave you Vulture's "15 Movies We Can't Wait to See at the Toronto Film Festival," and now we have reviews of the films and interviews with the stars. Kyle Buchanan wrote about The Fifth Estate, Osage County, Under the Skin (Scarlett  Johansson plays a fur coat-wearing alien!), 12 Years a Slave (Buchanan thinks it will win Best Picture), Hateship Loveship, Enemy, and interviewed Hugh Jackman. Jada Yuan spoke with Alex Gibney about being lied to by Lance Armstrong, Sarah Paulson about playing an evil wife in 12 Years a Slave, and the Enough Said cast about remembering James Gandolfini.
Q: So, I'm really into that band HAIM, but I'm embarrassed to admit I have no idea how to pronounce their name. Can you help?
A: We've got you covered: it's "HI-um," although "hyme" (like rhyme or chime) is okay, too. Check out Vulture's Fall 2013 Pronunciation Guide and make sure you're saying autumn's hard to pronounce names correctly.
Q: Does Robert De Niro have a self-parody problem?
A: Nick Schager thinks so, and wrote that "Sleepy or self-referential — barring a miraculous return to form, perhaps via a much-needed reunion with his directorial muse, Martin Scorsese — we're unlikely to see anything else from Robert De Niro for the remainder of his career." Read more here. 
Q: I heard J.K. Rowling is writing a Harry Potter spinoff movie. What should I expect?
A: Well, you should know that Harry Potter won't be in the movie. Fantastic Beasts and Where to Find Them (a title taken from a fictional Hogwarts textbook) will take place in New York, seventy years before Harry's time. Okay, now let's imagine what this might look like. Jennifer Vineyard thinks Newton Scamander ("a more academic Hagrid") will be the protagonist, and that, "Dumbledore would have been [Newt's] professor of Transfiguration while at school, and it's possible Newt could consult with him before taking the job or upon return from one of his journeys. While we all love Dumbledore, it might be best to keep any glimpses of him just that — glimpses. Too much more, and it becomes cheesy, given the emotional impact the wizard already served by appearing posthumously to Harry in Deathly Hallows." If only Professor Sybill Trelawney were around to tell us what the future holds. 
Q: I can't believe it's the twentieth anniversary of Late Night with Conan O'Brien! What are some of the best bits from the show?
A: We chose eight standout bits from the first five years of Late Night (Pimpbot 5000, anyone?) and spoke with Conan about the show. Of his early Late Night days, Conan told us, "I used to say that I fed my bone marrow into the first couple of years of that show. Because you've been waiting your entire life to get your comedy out there, and then you have this window to do so, and you're just going to go 130 percent till they drag you off the air."
Q: Breaking Bad's Todd is a terrifying character. How can we understand his role in the show?
A: Margaret Lyons argued that Todd is a reflection of the other characters on Breaking Bad. She wrote, "We see Hank in Todd, we Skyler in Todd, we even see Marie's perky telephone demeanor maybe sort of in Todd. We see parts of Walt and Gus and Mike and Jesse in Todd. And what they all add up to — Todd himself — is someone pretty awful.…He's a bad, bad guy. And with him, Breaking Bad is telling us that the bad side wins out — add up all the good things about the show's universe, and add up all the bad things, and guess what? The bad part wins." Okay, but what side wins when you're "Joking Bad"?
Q: Our music critic, Jody Rosen, wondered if country music had a woman problem.
A: Yes, country music does have a woman problem. "If you look at the rest of last week's top twenty, you'll find only one female artist," he wrote.
Q: What movies did well outside of the United States this summer?
A: Jesse David Fox wrote about how The Heat made bank in Bahrain. He also had twelve other weird facts about the world's taste in summer movies.