So What Did Lena Dunham Think of SNL's Girls Spoof?
She and Mindy Kaling watched the premiere together.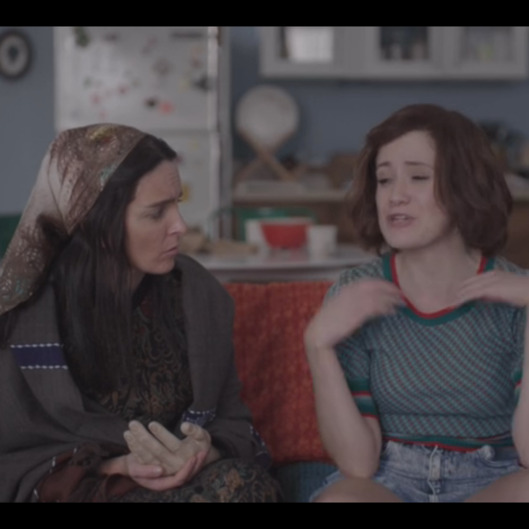 In a display of funny-lady solidarity, Mindy Kaling invited Lena Dunham over to watch the Tina Fey–hosted premiere of Saturday Night Live over the weekend. As luck would have it, SNL aired a spoof of Dunham's HBO show in which new cast member Noël Wells portrayed Hannah Horvath, and Fey played the neurotic writer's newest roommate Blerta, an Albanian refugee. Doubly lucky: Kaling and Dunham are avid social media users and both tweeted about the sketch. A few hours after the show aired, the Girls creator wrote: "The SNL parody of Girls was a true honor," adding a minute later, "Very excited about the current lineup of SNL ladies. They are funny like whoa."
From the other end of her living room, Kaling shared a photo of Dunham smiling wide alongside the caption "Watching @lenadunham enjoy Blerta on #snl's #girls in my living room" (below). Then to really rub it in, Kaling tweeted a shot of Dunham rooting around in her closet. Hint hint, Mindy – we like sitting on couches and watching TV on Saturday nights too.
Watching @lenadunham enjoy Blerta on #snl's #girls in my living room pic.twitter.com/pQBaiOlgF2

— Mindy Kaling (@mindykaling) September 29, 2013