The 25 Most Morrissey-y Quotes in the Morrissey Autobiography
There's more to life than books, you know, but not much more.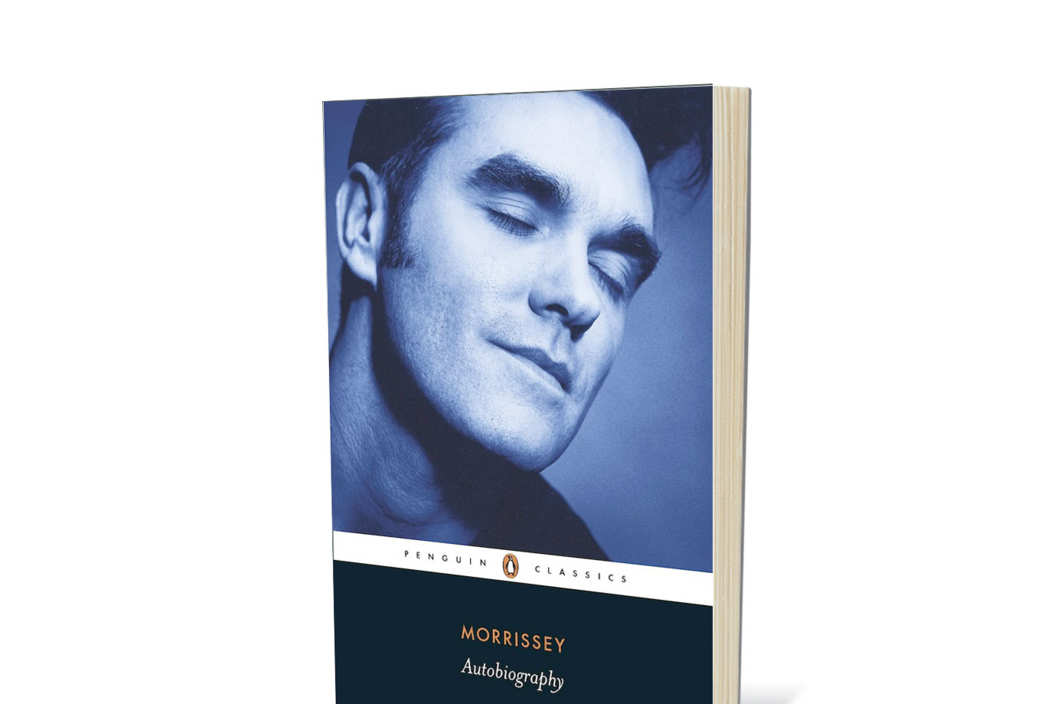 On the other side of the Atlantic, today saw the publication of the first memoir by one of the music world's most beloved, reviled, iconic, and controversial figures of the past three decades, in the shape of Morrissey's Autobiography. As both the front man of the Smiths and a still-thriving solo artist, Steven Patrick Morrissey has never shied away from speaking his mind, but the book provides the most unfiltered look inside the legendary musician's head to date.
Originally due to be published last month, the release was briefly cancelled after a fallout between the singer and Penguin Books, only to get back on track (albeit with Morrissey's insistence that it be published as a Penguin Classic, a label normally reserved for more traditionally canonical authors). There are currently no plans for the book to be published in the U.S., but Vulture's overseas correspondent got his hands on a copy earlier today.
And it seems to be fair to say that the book is exactly what you'd hope for and expect from a memoir by Morrissey: witty, honest, navel-gazing, indulgent, erudite, beautifully observed, infuriating, catty, occasionally moving, and almost entirely lacking in self-awareness. But who would have wanted anything else? To tide you over until the inevitable U.S. publication, below are 25 particularly Morrissey-esque highlights that demonstrate why, for better or for worse, it's not a book that anyone else could have written.
On his entrance into the world:
"Naturally my birth almost kills my mother, for my head is too big, but soon it is I, and not my mother, on the critical list at Salford's Pendlebury Hospital ... Once I am discharged from hospital, my sister Jackie, older by two years, is interrupted four times as she attempts to kill me, whether this be rivalry or visionary no one knows."
On being told about the birds and bees:
"It was [childhood friend Anthony Morris] who told me the reason why girls fluttered around me at St. Wilfrid's, and what it was that they wanted. He told me this because I didn't know, and even when I knew, I was less interested than when I didn't know."
On choosing a profession:
"All human activity is fruitless when pitted against the girls and boys singing on pop television, for they have found the answer as the rest of us search for the question. I will sing, too. If not, I will have to die."
On his education:
"St Mary's Secondary Modern School on Renton Road in Stretford may indeed be secondary, but it is not modern."
On being truthful to men of the cloth:
"'And what do YOU like in life?' [the priest] asks me, ready to play the patronizing game at my expense in order to raise a giggle from the rest of the class, thus rendering him popular for a few perverse minutes. 'Mott The Hoople,' I answer truthfully."
On school sports:
"Two years on, at Stretford Stadium I represent the school in the 400 meters dash (of sorts), legs muddled, face wet with rain, I clamber in at fourth place. My father is standing by the finishing-line. As I approach him he says 'You didn't win,' and he looks away, and life decomposes in a bucket. Perhaps I didn't win but it didn't help anyone to point it out."
On falling out of love with Roxy Music:
"Roxy Music will drop quickly from the emotional radar soon, as singer Bryan Ferry announces that his favourite food is veal — second only to foie gras in savage cruelty."
On hating it when his friends become successful:
"When my old friend Simon Topping [the frontman of Manchester band A Certain Ratio] appeared on the cover of the NME, I died a thousand deaths of sorrow and lay down in the woods to die."
On Johnny Marr's musical preferences:
"Johnny despairs of things as they are and wants to change them, even if, beneath the grit and growl, his favorite group of all-time is [sixties folk-jazz band] Pentangle."
On the record label Rough Trade:
"Whatever it was that Rough Trade were, they were not a hip label, and by their appearance, Rough Trade personnel in the early 1980s need never have feared sexual assault."
On his newfound celebrity:
"My social status leaps after decades of disqualification on grounds of radiation. The doorbell rings and there stands Vanessa Redgrave. 'Marcie,' she begins, and then goes on about social injustice in Namibia, and how we must all build a raft by late afternoon — preferably out of coconut matting."
On having a "bad boy" reputation:
"In Manchester, the famous Manchester Evening News desperately attempts to portray the Smiths as 'fans' of [Moors Murders serial killers] Hindley and Brady, and finally relent with the almost-invisible [headline] 'BAD BOYS ARE TOPS' when Meat Is Murder hits number one. How delightful to be thought 'bad,' I muse, as I sit by a reading-light, pawing George Eliot's Scenes of Clerical Life."
On being disliked:
"Whenever I'd overhear how people found me to be 'a bit much' (which is the gentle way of saying the word 'unbearable'), I understood why. To myself I would say: Well, yes of course I'm a bit much — if I weren't, I would not be lit up by so many lights."
On the recording of final Smiths album, Strangeways, Here We Come:
"I begin the vocal for 'Stop Me If You Think You've Heard This One Before,' when Stephen [Street, producer] stops me, even though he hasn't heard this one before. 'Er, Morrissey, I think there's a grammatic error here — Who said I lied because I never ...' he aids, helpfully. 'Yesssssssss,' I hiss, like an adder on heat, 'it's meant to be there,' and now I know how Joan of Arc felt."
On the band's lack of radio play:
"The Smiths fallout continues in Denver, where someone has held an entire radio station at gunpoint until DJs make the promise to play Smiths music. Unwittingly, this gunman is providing the very first active radio promotion on behalf of the Smiths, and evidently a loaded gun is what it takes to get a Smiths song on the airwaves."
On a riot at a Morrissey gig at UCLA in November 1991:
"The riot ensued when Morrissey instructed the crowd to 'come party,' says a reliable newshound to the on-the-spot camera, and the very idea of me ever sinking so low as to use the expression 'come party' makes me spray tonight's toddy across the television screen. In fact, the riot broke as I had been singing 'You're The One For Me, Fatty' — hardly an Altamont rallying call to the social underbelly."
On Denmark:
"Denmark is sadly a hellish place if you happen to be a pig, but the brioche and fruits that tower on the table before me have me hastily attaching a feedbag."
On a breakfast with friend David Bowie:
"David quietly tells me, 'You know, I've had so much sex and drugs that I can't believe I'm still alive,' and I loudly tell him, 'You know, I've had SO LITTLE sex and drugs that I can't believe I'm still alive.'"
On an encounter with Siouxsie Sioux, with whom he's fallen out with after recording a duet:
"On the doorstep [Siouxsie] asks me whether right or left would be the best direction to find a taxi, and although her best bet would be left, I suggest she turns right. It is churlish of me, but it is she who has set the pace."
On censorship:
"The censorious moral guardians of EMI Australia had refused (!) to allow my first solo album to be called Viva Hate, and had decided instead upon Education in Reverse. As a result, civilization enjoyed a new birth having been spared the blackness of Hades."
On a near-kidnapping in Mexico:
"Kidnapping in Mexico is almost an expected eventuality for anyone crossing the border with an entertainer's visa. Insignificant as I am, tonight's snatch was I, organized by those who obviously didn't realize that my market value wouldn't raise enough money to feed a family of five rug-rats."
On getting up early:
"He works on the bread vans each Saturday morning, and entices me to give it a go, rising as I must at 6 AM to be poetically active  by 6:30 -- an experience so frightening as to not be tackled twice."
On shopping:
"I walk to the shop every day to buy things that I don't need, because I want the owner to still feel relied upon, rain or shine."
On his proximity to celebrities in L.A.:
"My neighbor is the very famous Johnny Depp, who looks away should I ever appear. When my seven-year tenure at Sweetzer ends, Johnny Depp will buy the house for use as a guest annex."
On not appearing on Friends:
"I am back in the same studio some weeks later to watch a taping of Friends, having been invited to Reprise Records. Friends has become the most popular TV show in the world, showing life as it is commonly lived in America's carefully preserved unreality. The cast is friendly, and I am immediately taken aside by the scriptwriters and asked if I'd jump in on a newly jumbled plot-line where I appear with the character Phoebe in the Central Perk diner, where I am requested to sing 'in a really depressing voice.' Within seconds of the proposal, I wind down the fire-escape like a serpent, and it's goodbye to Hollywood yet again."