Bad Grandpa Makes Good at Weekend Box Office
<em>The Counselor</em> pretty much tanked though.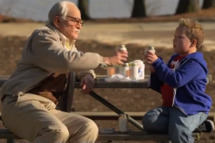 Gravity entered its fourth week in theaters getting knocked to second place by Jackass's latest offering. The semi-scripted Bad Grandpa opened on top this weekend with a $32 million haul, leaving the space thriller — which broke box-office records when it opened earlier this month — to make a still respectable $20.3 million. That brings Gravity's month-long total to just under $200 million. Tom Hanks's pirate thriller Captain Phillips dropped to third place in only two weeks and made $11.8 million this weekend. Meanwhile, The Counselor saw a disappointing opening with only $8 million despite its pretty impressive cast. Rounding out the weekend box office yet again, Cloudy With a Chance of Meatballs 2 made $6.1 million, crossed the $100 million mark, and continues to prove that animated movies will always make bank. Further proof is Deadline's news that Despicable Me 2 continues shattering records, this time surpassing the $900 million international marker. Guess NBCUniversal chief Steve Burke really wasn't kidding when he called that animated sequel "the most profitable film in the studio's 101-year history" this past July.