Ben Foster Confirmed For Lance Armstrong Biopic
Costarring Chris O'Dowd.
Error 503 Service Unavailable
Service Unavailable
Guru Meditation:
XID: 1957666694
---
Varnish cache server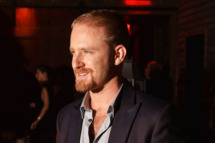 We should probably start getting plasma transfusions now if we have any hope of making it through the marathon of Lance Armstrong movies headed our way. Too soon? Deadline confirmed today that Ben Foster will play the lead in Stephen Frears's upcoming Armstrong biopic, as was rumored this summer. Chris O'Dowd will costar as Irish sportswriter David Walsh, a potentially meaty role considering the film's screenplay is based on Walsh's book Seven Deadly Sins: My Pursuit of Lance Armstrong. Frears's film, set to enter production on Oct. 18, joins the upcoming Lance Armstrong documentary and Bradley Cooper's Red Blooded American. Our only question is: Between Foster, Cooper and the actual Lance Armstrong, who will make the most sympathetic antihero?