Big Sean and Naya Rivera Are Engaged
"I'm Gleekin heavy."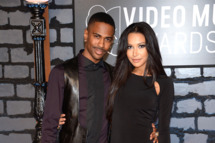 After, like, six months. Okay! While we are on the topic, here is Big Sean's recent review of Rivera's show, Glee: "Some of the episodes are a little much for me, but I like how they touch on real issues that people can really relate to." Also: "I'm Gleekin heavy." The Gleekin is probably what made her say yes.