There Will Be More Than 60 Kittens in the Kitten Bowl
And Yankees sportscaster John Sterling will be doing the play-by-play.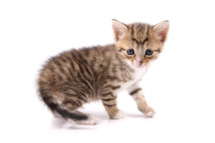 The Hallmark Channel announced in April that it would be staging a Kitten Bowl on Super Bowl Sunday in 2014, in competition with Animal Planet's beloved yet increasingly tedious Puppy Bowl. (Enough with reality-show stars! Just give us puppies.) Now new details have finally emerged: Beth Stern, wife of Howard Stern, will host, Yankees radio announcer John Sterling will do the play-by-play, and the special will run from noon to 9 p.m. Also, 60 to 70 kittens will be involved in the festivities, which will include playoffs and a championship showdown. That is so many kittens!