Keanu Reeves Hitman Movie Casts Two More Parts
Jason Isaacs and Bridget Moynahan sign on.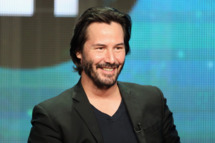 In John Wick, the film about a former hitman hired to kill his old friend, Keanu Reeves plays the gun for hire and Willem Dafoe is his unwitting acquaintance. Deadline reports that Jason Isaacs has joined the film, which is already shooting in Mill Neck, NY, and The Hollywood Reporter says Bridget Moynahan has signed on too. It's not clear who Isaacs will play, but Moynahan stars as the wife of Reeves's character, who is "forced to return to action after thugs steal his car and kill his dog. He finds himself going up against a Russian crime boss, played by Michael Nyqvist." This "modern revenge thriller" is being directed by Chad Stahelski and David Leitch and is slated to land in 2014.