Kim Raver Returning for 24 Miniseries
William Devane, too.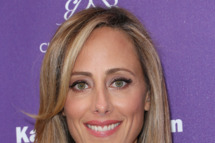 Kim Raver has officially signed on to reprise her role as the chronically at-risk Audrey Raines on 24: Live Another Day. According to TVLine, both Raver and William Devane, who plays her father, will be in the revival miniseries. Last we saw Audrey, it was the end of season six; she was in a coma and a tearful Jack was bidding her farewell and promising he'd always love her. Does this mean Audrey is secretly alive? Let's hope. Bringing someone back to a show just to make them lie there and pretend to be in a coma seems awfully expensive and cruel.