50 Things Vulture Readers Would Have Put on Our Millennial 100 List
You all had lots of things to say.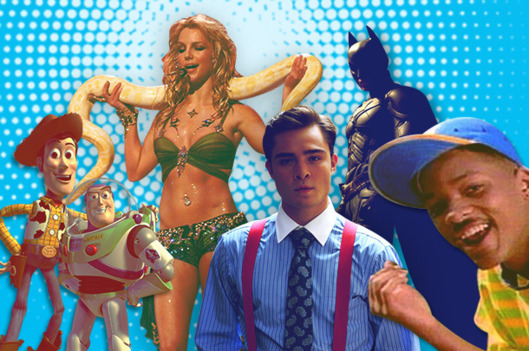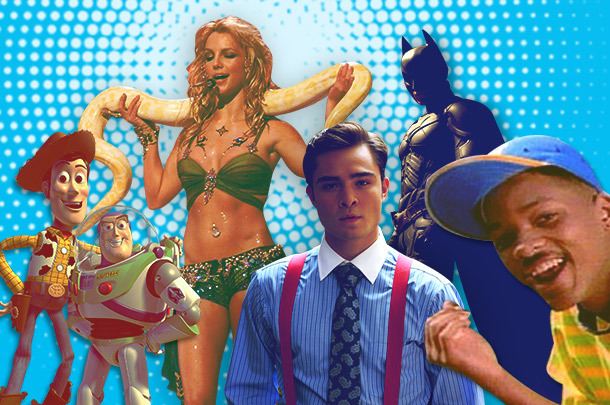 Last week, when we published the Millennial 100 — our list of the pop-culture items we thought resonated the most with the millennial generation — we included a spot that was essentially a readers' choice, a slot for you to fill in with your own suggestion. That choice wasn't made because we could only think of 99 things to put on the list; it was a genuine acknowledgment that we live in a time when it's easier than ever to broadcast one's opinion far and wide through social media and comment sections. Millennials understand this better than most — they've grown up with that power. And when it came to our list, you certainly let your thoughts be known. Here's a rundown of what you thought we left off our list.
1. "No Pokemon? FAIL!" —DaleKamp
2. "Great list with ONE UNACCEPTABLE OMISSION —  THE SIMPSONS. Any and every Millennial grew up watching The Simpsons. Hell, it was almost as influential as my parents." —virg0400
3. "You forgot Adam Sandler! Billy Madison, Happy Gilmore, Little Nicky, Big Daddy, Mr Deeds, 8 Crazy Nighs, The Hannukah Song, Punch-Drunk Love ... come on!!"  laplaide
4–5. "I don't understand the lack of friends/seinfeld." —prasadvx
6–7. "Um Mall Rats and Empire Records???" —nudey
8. "I just re watched Can't Hardly Wait, and can we acknowledge what a wide reaching movie that is and how it really covers the millennial sentiment/mood really well?" —ead310
9. "I also think The SIMS should be on this, too." —Iheartbillysbakery
10. "MTV's Real World (early ones like NY and SF)" —Shoot_the_Critic
11. "Joss Whedon should be on the list. Need anyone count the ways he's impacted the Millennial crowd? From BUFFY to TOY STORY to DR. HORRIBLE to AVENGERS... the list goes on." —somestuff
12. "The Olsen Twins! Where are MK and Ashley?" —patsystone
13. "Where are the Gilmore Girls without whom no millenialite would have spent an hour a week with her mom? And where in god's name is LOST?! the first tv show we truely obsessed over. you can hate the ending all you want but it opened the door to the new tv cult age." —shpooky
14. "Can there even be a list without Lebowski?" —RealityCzech
15. "So the Daily Show should be on this list right?" —johnnyb0731
16. "Clue but not Jurassic Park? Clue? Seriously?" —RaptorEsq
17–26. "Oasis, Ghost World (graphic novels adaptations, ScarJo), Moby, Freaks & Geeks (the internet making a cult tv show long after it's death), Robin Tunney (empire records and the craft), Quentin Tarantino, Wes Anderson (started the hipster movement with Rushmore not Royal Tennenbaums), Community, Grand Theft Auto, Revenge of the Nerds (ie. nerd culture superseding jock culture)." —cowabungaduderino
27. "Goonies > Harry Potter. The Truffle Shuffle, Sloth, Never Say Die ... NOT ON THE LIST?! If you're going to start doing lists like HuffPo, at least take it seriously. ;)" —ICT
28. "I have never heard of this Ignition song! I'd actually replace it with J-Kwon's Tipsy." —thenakedgrape
29. "MOLLY SHANNON, ANYONE?! (along with all of the others who made up SNL from roughly 1995-2002)." —mmag
30–35. "Fast and The Furious movies anyone?!" —alprough
36. "You young folks need to remember your Spielberg. Where do think your oh-so-special dreamland of self-obsessed egotistical can-do optimism even comes from? Who do you think -invented- that?" —theporkchop
37. "My biggest gripe is how out of place High School Musical is. If you're going to include a musical TV show or movie that actually made show choir/musical theater kids feel accepted then you have to include Glee instead." —lem326
38. "Pop Up Video" —chiyork
39. "I was more of a Sweet Valley Twins girl myself." —mittens1326
40. "I'd say Lil' Kim deserves the distinction more than Janet." —LilKlaus
41. "WHERE IS MY SO-CALLED LIFE?!" —joescat
42–45. "Jennifer Love Hewitt? Melissa Joan Hart? 10 Things I Hate About You? She's All That?" —Miss_Priss
46–50. "Green Day? Third Eye Blind? Jewel? TLC? Baby Got Back." —RichardLloyd