Review Roundup: The Most Effusive Praise of 12 Years a Slave
"Is <i>12 Years a Slave</i> a new masterpiece?" "<i>12 Years a Slave</i> is easily the greatest feature film ever made about American slavery," and more!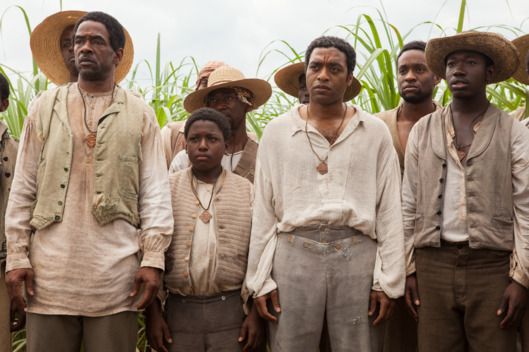 Every so often, a film comes along that critics hail less as entertainment than as a necessary experience. This fall, 12 Years a Slave is that movie. A movie we said in September will be the "Best Picture winner," with a 96 percent fresh rating on Rotten Tomatoes, critics have deemed this a movie so unprecedented in its depiction of slavery that viewers will walk out changed, freshly scalded from the horrors of our country's history. From comparisons to Schindler's List to arguing that it redeems film's power as a human-rights medium, here is some of the most bombastic praise for 12 Years a Slave.
"12 Years a Slave is easily the greatest feature film ever made about American slavery." —The New Yorker   
"12 Years a Slave lets us stare at the primal sin of America with open eyes, and at moments it's hard to watch, yet it's a film of such emotion that in telling the story of a life that gets taken away, it lets us touch what life is." —EW 
"Movie audiences have never been presented with anything quite like the intertwined beauty and savagery of 12 Years a Slave, so it's anyone's guess whether they'll extend the embrace that Steve McQueen's film deserves. Such is the power of this landmark event, though, that it seems certain to transcend the movie realm and become a new reference point in contemporary culture — a defining vision of what slavery looked like, and felt like, in the U.S. before the Civil War." —Wall Street Journal 
"12 Years a Slave isn't the first movie about slavery in the United States — but it may be the one that finally makes it impossible for American cinema to continue to sell the ugly lies it's been hawking for more than a century." —Times 
"His film is a tough, soul-sickening, uncompromising work of art that makes certain that when viewers talk about the evils of slavery, they know its full dimension." —Dissolve 
"Intense, unflinching, bold in its simplicity and radical in its use of image, sound and staging, 12 Years a Slave in many ways is the defining epic so many have longed for to examine — if not cauterize — America's primal wound. But it's also a crowning achievement of a filmmaker whose command of the medium extends beyond mere narrative and its reductive, sentimental snares to encompass the full depth and breadth of its most expressive and transforming properties." —Washington Post 
"If the best films hold you in a captive vise, entertain you, keep you spellbound and teach you something at the same time, then 12 Years a Slave is outstanding—brave, courageous and unforgettable." —New York Observer  
"It's not too soon to call 12 Years a Slave a great film — ruined, tremulously sad, surreal in its evil. It does more than join the company of TV's landmark Roots; it eclipses it for nuance and psychological depth." —Time Out New York 
"McQueen has made a film comparable to Schindler's List — art that may be hard to watch, but which is an essential look at man's inhumanity to man." —New York Daily News 
"Stark, visceral and unrelenting, 12 Years a Slave is not just a great film but a necessary one." —Guardian 
"More than a powerful elegy, 12 Years a Slave is a mesmerizing triumph of art and polemics: McQueen turns a topic rendered distant by history into an experience that, short of living through the terrible era it depicts, makes you feel as if you've been there." —Indiewire 
"12 Years a Slave works on so many levels — some topical, some timeless — that it's almost impossible to count them. It's an adventure movie, a hostage tale, a white-knuckle thriller, a story of triumph. Above all, it's a work of astounding artistry and relentless moral force." —Newsday 
"It's a shame that such injustice was allowed to exist for so long — 12 years for Northup and nearly 250 for those less fortunate — and an even bigger disgrace that it takes a British director to stare the issue in its face." —Variety
"Proving himself a world-class director, McQueen basically makes slaves of us all. It hurts to watch it. You won't be able to tuck this powder keg in the corner of your mind and forget it. What we have here is a blistering, brilliant, straight-up classic." —Rolling Stone
"Is 12 Years a Slave a new masterpiece?" —Slate