The Scandal Cast Isn't Really Rooting for Olivia and Fitz Either
"Is this bad to say? I think I'm Team Jake."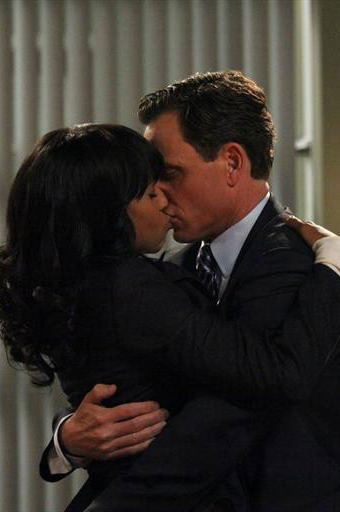 Yesterday, Vulture's Margaret Lyons admitted it: She isn't rooting for Olivia and Fitz to get back together on Scandal. ("She rigged an election to get him [into the White House]; he's cheating on his wife to be with her. And they're terrible for each other." Good points.) At last night's season-three premiere party hosted by Saks Fifth Avenue, we asked the Scandal cast to weigh in. Turns out, they're not really shipping the couple either. If anything, they're rooting for Olivia and Jake (played by Scott Foley) to be together. Here's what they had to say:
Guillermo Diaz (Huck): "You know, I was in the beginning, but now I'm kind of enjoying the relationship with Jake — there's like a different, more grounded, sort of sexier energy with those two. So now I'm kind of more Team Jake. Which is funny."

Katie Lowes (Quinn Perkins): "Is this bad to say? I think I'm Team Jake. I, as a watcher of television, always go for the underdog, like I just always go for the person people don't expect. Maybe it's because I'm sort of really traditional and boring, so I like to pick something different. I'm like, 'How much can Olivia put up with?'"

Darby Stanchfield (Abby Whelan): "I change my mind almost every episode, sometimes within a scene. At the baby christening, when [Fitz] takes her in the closet, and then the nasty things he says to her afterwards, it's like, 'You deserve better, Olivia Pope, than putting up with that behavior in your life.' At the same time, you know, they have a scene in the Rose Garden where he's like, 'I can't live without you, I'm nothing without you,' and you're like, 'Oh my gosh — they're in love and they're meant to be together.'"

Joshua Malina (David Rosen): "As an actor on the show, I certainly am [Team Fitz]. I think that chemistry, that alchemy between the two of them, that will-they-won't-they, is-it-going-to-work-out, who's-mad-at-who, is a very important feature of the show. I think if it were over-over, or together-together, we would lose something. So I hope [creator and executive producer] Shonda [Rhimes] can play that out as long as possible. As a fan of the show? No, I don't know that I want them together. Run the country! Get your eye on the ball!"

Kerry Washington (Olivia Pope): "Oh, gosh. I'm Team Shonda, so whatever she writes, I do."