There Will Always Be More Behind-the-Scenes Breaking Bad Photos
Taken and shared on Twitter by camera operator Andy Voegeli.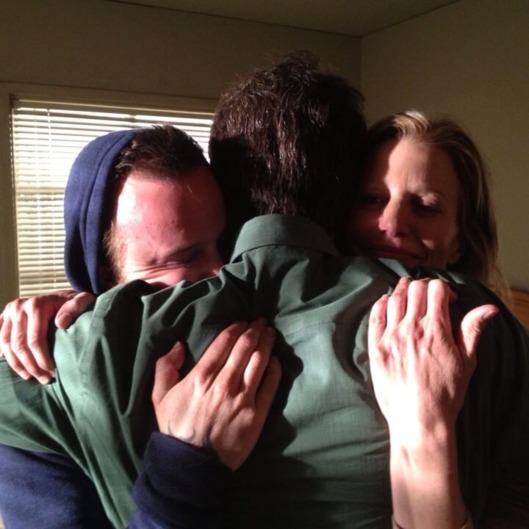 Our Breaking Bad breakup will never end, not with all these behind-the-scenes photos that keep popping up, reminding us that the show is completely over. Over! "I've got thousands of pics," claims camera operator Andy Voegeli, who tweeted just a few from his collection (with the implication that there are more to come, so just calm down).
#BreakingBad Bryan's first day directing pic.twitter.com/7H9xNexi9n

— Andy Voegeli (@AndyVoegeli) October 16, 2013
#BreakingBad good times!! Set was always fun. 100% if the time. Thank you Mr Cranston pic.twitter.com/CQs8TpHDZw

— Andy Voegeli (@AndyVoegeli) October 16, 2013
#BreakingBad pink Teddy Bear pic.twitter.com/FqEskequ5l

— Andy Voegeli (@AndyVoegeli) October 15, 2013
#BreakingBad Skyler pic.twitter.com/Fst9bsInl8

— Andy Voegeli (@AndyVoegeli) October 16, 2013
@aaronpaul_8 getting into character pic.twitter.com/hXfUR4XReg

— Andy Voegeli (@AndyVoegeli) October 15, 2013
@aaronpaul_8 wrap tattoo pic.twitter.com/tPtVJ3NFJ5

— Andy Voegeli (@AndyVoegeli) October 15, 2013
@BryanCranston getting his Tattoo. From Richard. pic.twitter.com/YAq5yBcpFd

— Andy Voegeli (@AndyVoegeli) October 13, 2013
@BryanCranston @aaronpaul_8 last day of filming the greatest show in TV history #BreakingBad pic.twitter.com/dXMHaj0vqb

— Andy Voegeli (@AndyVoegeli) October 13, 2013
I really do miss these 2 pic.twitter.com/PgoY5Eomn3

— Andy Voegeli (@AndyVoegeli) October 15, 2013
@aaronpaul_8 @BryanCranston @annagunn last day o filming for Anna. Sad goodbye #BreakingBad pic.twitter.com/NWkcANA4eV

— Andy Voegeli (@AndyVoegeli) October 13, 2013