Sigourney Weaver Joins Neill Blomkamp's Chappie
Along with Hugh Jackman and Dev Patel.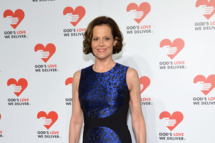 It was announced today that Sigourney Weaver will round out the cast of Neill Blomkamp's next project, Chappie. The movie, which co-stars Hugh Jackman and Dev Patel, centers on Chappie, a robot (voiced by Sharlto Copley) who's kidnapped (robotnapped?) by two criminals, only to become the adopted child of a weird family. There's no word yet on who Weaver will be playing, but considering her career dealing with aliens, ghosts, and blue aliens, she'll probably be chill.