Marcia Wallace, The Simpsons' Ms. Krabappel, Dies at 70
Let us part with a love that will echo through the ages.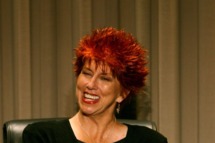 If you heard the wind whisper the name Edna this weekend, you already know voice actress Marcia Wallace passed away on October 25 at her home in Los Angeles. According to her son, she died due to complications of pneumonia. She would have been 71 on November 1. In addition to voicing Bart's teacher and Ned's beloved, Wallace also starred as receptionist Carol Kester on The Bob Newhart Show, Mrs. Caruthers on Full House, and sassy maid Maggie Hawley on That's My Bush! She will be deeply envied and missed.