Steven Spielberg Reteams With Lincoln Writer
Doris Kearns Goodwin sold her newest tome a week before its release.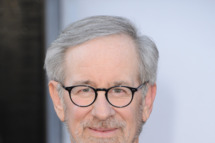 Since Lincoln was such a huge hit, DreamWorks is hoping to turn another one of Team of Rivals author Doris Kearns Goodwin's massive historical tomes into Oscar gold. The AP writes that Steven Spielberg's studio bought the rights to The Bully Pulpit: Theodore Roosevelt, William Taft and the Golden Age of Journalism — a 900-pager that actually won't be out until November 5 — saying of Goodwin's work: "[She's] once again given us the best seats in the house where we can watch two dynamic American personalities in a battle for power and friendship." Now let's figure out which of the two presidents Daniel Day-Lewis will go Method for.