Stream Pearl Jam's New Album Now
It comes out next week.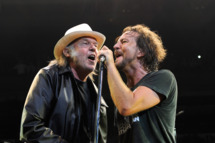 Lightening Bolt, Pearl Jam's first album since 2009's Backspacer, comes out October 15, but you can stream the ballad-heavy record over on iTunes (you have to click on the artist page when you get to iTunes). Quick — tell your older brother, TA, and/or manager at your job.