Taylor Lautner, Your Newest Dirk Diggler
Jason Reitman's doing another <em>Boogie Nights</em> reading.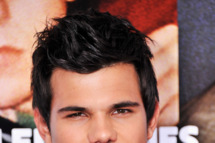 Jason Reitman is presenting another staged reading of Boogie Nights, even though he did one at the Toronto International Film Festival just a month ago. But no matter; at that reading, Jesse Eisenberg played Dirk Diggler, but for tomorrow night's LACMA staging, Taylor Lautner will be taking on the Mark Wahlberg role, according to E!. Somewhere, someone has definitely told Lautner that he's a star, he's a star, he's a big bright shining star. Mae Whitman, national treasure, will play Roller Girl, which is far more exciting.