We Could All Learn From Grimes's Tour Rider
No Styrofoam, one cute dog.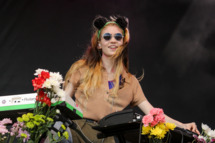 No. 1 indie blogger (and talented musician) Grimes posted excerpts from her tour rider on Tumblr, and most of it is dedicated to environmental concerns, which is admirable. This clause is probably the highlight, though: "if possible, one cute bulldog, french bulldog, pug or pomeranian (or other cute animal, such as a chinchilla or a pekanese) to visit and hang out but who gets to leave before too much loud noise is heard so that he or she does hurt their ears. it is important that if said animal visits, they have a safe home to return to. lol." What she said.