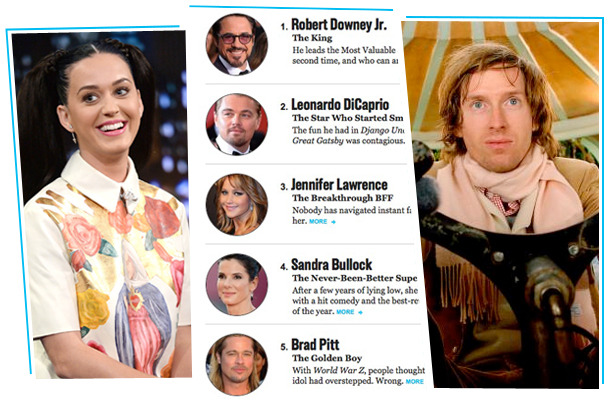 10 Pop-Culture Questions Answered by Vulture This Week
Every week, Vulture faces the big, important questions in entertainment and comes to some creative conclusions. This week, we released our list of the most valuable actors in Hollywood, talked with one of the writers of American Horror Story, and gave a street seminar on Banksy. You may have read some of these stories below, but you certainly didn't read them all. We forgive you.
Q: I don't like it! I refuse to live in a world where Kristen Stewart is below Jennifer Lawrence! Can't I change it?
A: Indeed you can! You can adjust the metrics and make interesting discoveries (Just crank up "Twitter Mentions" and "Tabloid Value" and diminish things like, you know, "Studio Value" and "Likeability" and suddenly we live in a world where K. Stew is on top, meaning not reality.) Also, we can always look ahead to 2014.
Q: The last episode of American Horror Story messed with my brain in a real way. Who is behind this madness?
A: That episode was brought to you by James Wong, he of the creepy/fantastic X-Files episode involving the incestuous monster brothers and their mom.
Q: What is this kerfuffle between Netflix and cable channels about?
A: The short answer is that FX and Turner want streaming rights for the entire season of a show as it's airing, whereas Netflix hates that idea because it believes the move would cut into their profits. Josef Adalian has the more thoughtful explanation.
Q: Are there any interesting tidbits that Matt Zoller Seitz gleaned while working on his book about Wes Anderson?
A: Of course. He isn't into "authoritative" interpretations of his work, loves Rear Window, and could only afford to pay Bill Murray the Screen Actors Guild minimum for Rushmore.
Q: What's the deal with Banksy's New York tour?
A: Jerry Saltz isn't the biggest fan, but he understood some of the hype when he led a street seminar on the new Banksy on the Upper West Side: "I suddenly got what the reaction to Banksy is about: "It's being part of the reaction to a Banksy. It's a multiplying communal occasion, friendly, a way to talk to strangers and share a piece of New York."
Q: I can't get Katy Perry's Roar out of my head! Is the rest of the album, Prism, similarly addictive?
A: According to Jody Rosen, Roar is the only good song on the album. Much of the other songs "feel both overdetermined and underdone — crudely calculated and three-quarters baked." However, Rosen reserves the right to change his opinion as "Perry's music has a way of insinuating itself into your consciousness, especially when it's clobbered home by a zillion radio plays." Truth.
Photo: Theo Wargo/Getty Images; Touchstone Pictures