Why The Mindy Project Wants Mindy to Be Single
In tonight's episode, Casey drops the bomb.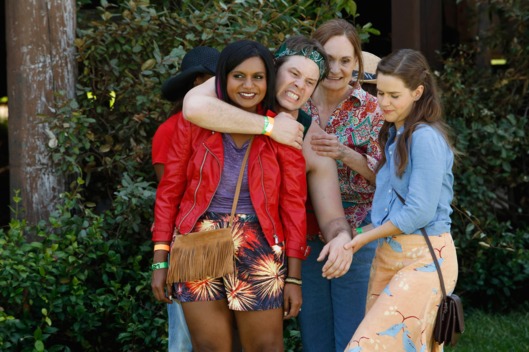 At the end of The Mindy Project's first season, Mindy lived out a wild rom-com fantasy, declaring her love for Pastor Casey by cutting off her hair and moving to Haiti with him. However, tonight's episode seems to indicate that happily-ever-after isn't a Mindy destiny that the show embraces. "You know when you meet someone and you're obsessed with them for a week? And then they reveal themselves to be a psychopath and you're like, 'What the fuck was I thinking?' That's the kind of Mindy I love writing for," said Ike Barinholtz who pulls double duty writing for the show and playing sweet ex-con turned nurse Morgan Tookers. "Relationship Mindy is fun, but we got a big taste of that last year. I like Mindy single and on the prowl."
It's not too much of a spoiler to note that the Mindy–Pastor Casey wedding might not come to pass. After all, news broke this summer that It's Always Sunny in Philadelphia's Glenn Howerton and Justified's Timothy Olyphant have both been cast as love interests for Mindy, and the Pastor doesn't seem like the kind of guy to embrace polygamy. That said, he isn't as religiously righteous as he seems: In tonight's episode, Casey drops the bomb that he's decided to quit the church and pursue a music career.
In August, Vulture visited the set during the filming of Mindy and Casey's first real talk about his move. In the scene, they discuss possible DJ names for him, and Barinholtz and writer David Stassen tossed out several on the fly. DJ Covenant? DJ Inspiration? "Boom," yelled Barinholtz. "DJ Sacrament. Ders, can we get a few takes with these?" Holm added one of his own, saying "Pope John Baller" with a proud grin. Always playing the eager girlfriend, Kaling gave her approval of the moniker: "Babe, girls are gonna come in their pants." (Big surprise: This exchange didn't make tonight's cut.)
Don't take this romantic shakiness to mean that the writers are clearing a path for a Nick-and-Jess-like romance between Kaling's Mindy Lahiri and Chris Messina's Danny. "There's so many things to play between them besides falling for each other," said Kaling. Now that there's genuine friendship between the two, Kaling said the bickering feels more fun. "We know they care about each other. We could do that for a while."
Besides, there are plenty of other romantic entanglements to come. Executive producer Jack Burditt, a former 30 Rock writer who joined the show in January, compared Mindy to Liz Lemon, if Liz's workplace troubles were romantic ones. "They're both professional women who are flawed in many areas. Part of the appeal to do this show was to do things we didn't on 30 Rock. Liz and Jack dated at times, but we were never really attacking the romance."
So far, attacking the romance means making Mindy learn lessons the hard way. "The worse it is for Mindy, the funnier it is," Barinholtz said. "It's all about building her up, getting her excited, putting her in a great outfit, and then having her fall in a pile of horseshit."