Your 2014 Rock and Roll Hall of Fame Nominees Are …
Nirvana! The Replacements! N.W.A.!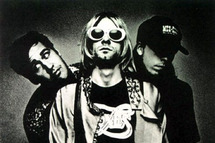 Nirvana, the Replacements, N.W.A., Chic, Peter Gabriel, Kiss, LL Cool J, the Zombies, Cat Stevens, Hall & Oates, Paul Butterfield Blues Band, Deep Purple, Link Wray, the Meters, Linda Rondstadt, and Yes. Nirvana made it in on their first year of eligibility — 25 years after a band's first single — because they are Nirvana, and you are old.