10 Great Folk Albums Released This Year
Laura Marling, William Tyler, Valerie June, and more.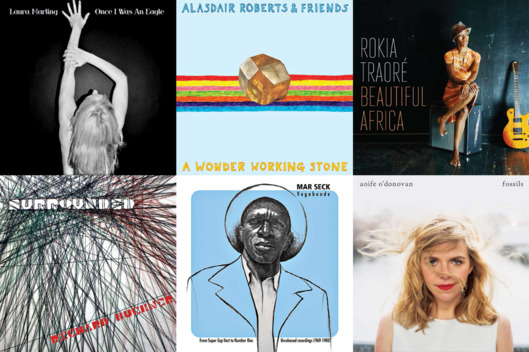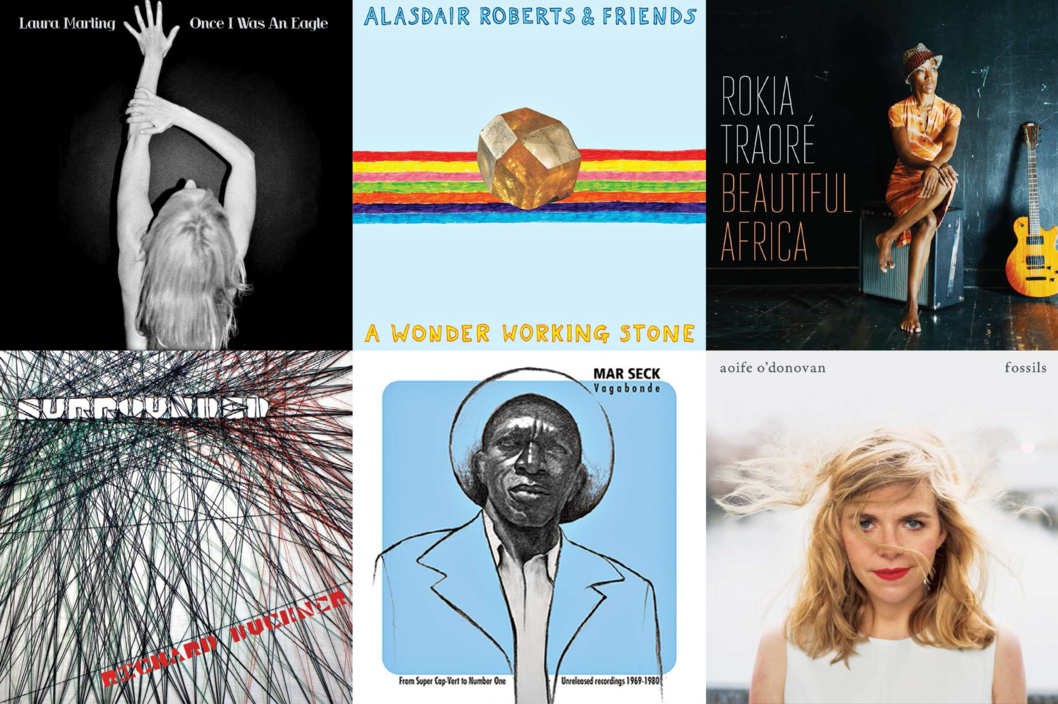 What is folk music? In 2013, the better question might be: What isn't it? We've come a long way from the earnestly warbling Greenwich Village coffeehouse balladeers recalled by the Coen brothers' new movie, Inside Llewyn Davis. There's still some warbling, of course, and lots of earnestness, and even a coffeehouse or two. But folk today is an expansive, contested category that takes in a world's worth of sounds. There are protest singers in the classic sixties mode and confessional songwriters in the classic seventies one. There are urban, urbane folksingers, and self-styled rustics. There are folk musicians who ornament their ballads with electronic bleeps and beats; there are "folktronica" musicians, who give their dance rhythms an earthy feel, folding in banjos and fiddles and other "organic" instrumentation.
The Internet has shrunk an already small musical world: Today, we can revel in—and share, and pilfer from—the traditional music of six continents. Once folk was puritanical, with tightly policed borders, but today's folk follows pop, admitting what has always been true, that it's a magpie's art. Sometimes folk is pop. At the top of the charts, you'll find those 21st-century heirs to the Kingston Trio and Peter, Paul and Mary, the Lumineers and Mumford & Sons, with their American Gothic fashion sense and their big doofy sing-along ­verses. What follows are ten excellent folk—or folky—releases from 2013. I could have picked another 50, at least.

1. Laura Marling
Once I Was an Eagle
She may still be an eagle, actually. British singer-songwriter Laura Marling is certainly a force of nature. Her stormy love songs are both intimate and grand, homing in on gory details and pulling back to take a soaring bird's-eye view of the wreckage. The music foregrounds Marling's fingerpicking and strong, nimble voice; you can hear Sandy Denny, Joni Mitchell, and other sixties folk echoes moving through her hymns and modal drones. But Marling is her own woman: In "Master Hunter," she gives another old hero, Bob Dylan, an acidic twist. "If you want a woman who will call your name," she sings, "it ain't me, babe."

2. William Tyler
Impossible Truth
For plain beauty, it's hard to beat William Tyler's collection of solo guitar instrumentals. Tyler, who's played with Lambchop and Silver Jews, is often compared to John Fahey, and his fingerpicking is Fahey-esque in both technique and effect. He's a virtuoso, sure, but he sounds less like a musician flaunting his chops than a truth-seeker—a man using his guitar as a divining rod to uncover some hidden truth about life, or nature, or, at least, about guitars. The songs chime and ripple, washing over you like water smoothing stones on a riverbed.

3. Valerie June
Pushin' Against a Stone
Folk isn't all you'll hear in the music of Valerie June. On the superb Pushin' Against a Stone, there's blues and gospel; there's country with a high-lonesome down-home twang; there are tough, torchy soul ballads worthy of Etta James. June is a powerful singer and a blunt, bruising songwriter; she has a blueswoman's knack for capturing hard times in a few quick, cutting lines: "I ain't fit to be no mother / I ain't fit to be no wife / I've been workin' like a man / I've been workin' all my life."

4. Richard Buckner
Surrounded
"No one haunts you," sings Richard Buckner on his latest album. He's lying, though: Ghosts move through the songs on Surrounded, on which Buckner set fragmented stories and confessions to music that has the eerie beauty of a moonlit winter landscape. It's folk music that's not afraid to live in the 21st century: Buckner recorded the basic tracks using electronic autoharp and an octave pedal, adding dabs of color and texture with keyboards and electronics. The results cast a spell.

5. Mar Seck
Vagabonde
The Senegalese singer Mar Seck recorded the songs on this compilation in 1969, 1973, and 1980. They sound like they were recorded last night. The music on Vagabonde blends Cuban and Congolese rhythms; the lyrics, in Spanish and Wolof, dwell on romance and dancing. But it's Seck's gentle, graceful singing that stands out. He makes music sound like charming conversation; every note tickles your ear.

6. Sarah Jarosz
Build Me Up From Bones
The latest album by the young bluegrass singer Sarah Jarosz is burlier—and poppier—than her previous efforts. (Listen to the groovy single "Over the Edge.") But the desolate Appalachian cadences are there in "Fuel the Fire." And her cover of Bob Dylan's "Simple Twist of Fate" is one of the best—certainly the starkest—versions of that great song.

7. Anaïs Mitchell & Jefferson Hamer
Child Ballads
The material is sturdy: The seven songs on this mini-LP are taken from a famous collection of English and Scottish ballads anthologized by Harvard professor and folklorist Francis James Child at the end of the nineteenth century. Anaïs Mitchell and Jefferson Hamer bring just the right touch to time-tested songs—respect but not reverence, deft guitar-picking and harmony-singing, no fussiness or gratuitous jazzy-modernizing. The old stories are modern enough as it is: Check out "Willie of Winsbury," about a father, a daughter, a boyfriend, and a shotgun marriage.

8. Aoife O'Donovan
Fossils
If you like, you can call Aoife O'Donovan's first solo album folk-rock—there's some serious sinew in songs like "Red & White & Blue & Gold." Or call it country (hear that pedal steel? Those close-harmony vocals?), or bluegrass (those fiddles, that song she wrote for Alison Krauss), or even chamber pop ("Thursday's Child"). O'Donovan's voice, in any case, is folksinger-pretty, with a dusky, bluesy edge. She can write lyrics, too, and hooks.

9. Rokia Traoré
Beautiful Africa
It's hard to mess up with the Malian singer-songwriter Rokia Traoré: Her remarkable voice seizes your ears, commanding attention from the first syllable. Still, John Parish, the producer and guitarist best known for his work with PJ Harvey, deserves credit for his light touch—for crisp, unfussy sound that pushes Traoré's husky, insistent voice right up front. The great songs don't hurt, either.

10. Alasdair Roberts & Friends
A Wonder Working Stone
If you're a sucker for the mystical-woodsy vibe of Northern British folk music, Alasdair Roberts, from Callander, Scotland, is the man for you: He sings in a warbling brogue, and his songs ring with enchanted misty-mountain ambience. But there's history beneath the music; Roberts is a scholar as well as a singer, steeped in tradition. And if you listen close to songs like "Brother Seed," you can hear all kinds of darkness—like, um, incest—amid the pastoral imagery: "And she a youngling in her bud / The green wood waxes early / She's lain with one too near in blood / Where the deer go running yearly-o."

*This article originally appeared in the December 9, 2013 issue of New York Magazine.