11 Lost Literary Classics You Can Download for Free
Plus: Eight massive online troves of great reading material.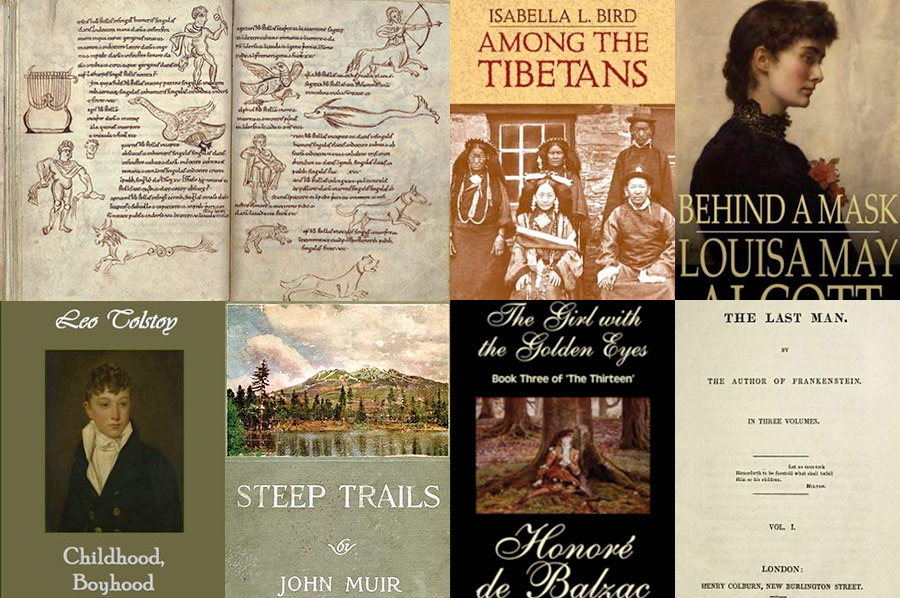 Who needs new books? In this week's issue of the magazine, our critics show us what's in their personal collections of old culture, much of it you might've missed. All of it is available online, somewhere. Herewith, Kathryn Schulz's list of the 11 lesser-known literary classics you can download for free.
1. The Last Man by Mary Shelley, 1826
An apocalyptic novel by Ms. Frankenstein herself, in which a 21st-century civilization—oh, yes—self-destructs in the face of an outbreak of plague.
2. The Girl With the Golden Eyes by Honoré de Balzac, 1833
A beautiful girl, her lover (male), her other lover (female), intimations of incest, attempted murder, actual murder: Let's just say this is the kind of French novel that gave French novels their name.
3. Behind a Mask, or a Woman's Power by Louisa May Alcott, 1866
Close readers of Little Women will recall that Jo March is talked out of writing trashy novels by the upright, kindly Professor Bhaer. That detail was autobiographical: Before getting all wholesome (and all famous), Alcott wrote some wonderfully over-the-top gothic novels, this one included.
4. Steep Trails by John Muir, 1918
A great naturalist as well as a great natural stylist, Muir wrote these lovely letters and essays from the field—where the "field" was also mountain, mesa, valley, and the rest of the American West.
5. Among the Tibetans by Isabella Bird, 1894
In an era when "explorer" was still a real profession, Isabella Bird was one of the few female ones, and her travel narratives are remarkable—both for the places she went and for her unmistakably Victorian-eyed view of them.
6. The Education of Henry Adams by Henry Adams, 1907
An astute, often funny, strikingly relevant memoir in which Henry Adams—grandson of John Quincy, great-grandson of John—grapples with the question of how to equip people to face a lifetime of radical technological and social change.
7. Plum Bun by Jessie Redmon Fauset, 1928
A novel about race, gender, and passing by the longtime literary editor of The Crisis. Fauset is famous for championing the future leaders of the Harlem Renaissance—Langston Hughes, Countee Cullen, Claude McKay—but by rights, she belongs on that list herself.
8. Essays by Michel de Montaigne, 1580
Forgive my one concession to the obvious, but Montaigne's essays are weirdly optimized for modern life (easy to read on a phone, for one thing), not to mention just weirdly modern, and way too wonderful to overlook. Sample titles: "Of Age," "Of Drunkenness," "Of Coaches," "Of Cannibals," "Of Liars," "Of Vanity," "Of Sleep."
9. Mrs. Spring Fragrance by Sui Sin Far, 1912
Sui Sin Far was also known as Edith Maude Eaton, and the names say a lot: Half-Chinese, half-British, and raised in America, Sin Far mined the cultural differences she experienced to produce among the first works of Asian-American literature. The short stories collected in Mrs. Spring Fragrance are also divided another way: half for adults, half for kids, all wonderful.
10. Evelina by Fanny Burney, 1778
Jane Austen fanatics who have exhausted her oeuvre should read all of Burney, starting with this epistolary novel about the shunned daughter of a British aristocrat. No one is as good as Austen, but Burney took the sentimental novel and nudged it toward satire, with very fun results.
11. Childhood, Boyhood, Youth by Leo Tolstoy, 1855–58
By all means, read Anna Karenina, read War and Peace. But if you're done with those, or daunted, read Tolstoy's semi-autobiographical trilogy of novels—his first works (Childhood was published when he was just 24) and strikingly different in tone from what was to come.
Eight Massive Online Troves of Great Reading Material
Thanks to digitization, readers can access literary material we could never have gotten our hands on in the past—because it was expensive, rare, remote, uncollected, impossible to find, or because of a literal prohibition against putting one's hands on them. Herewith, a tiny sample of this literary abundance, from illuminated manuscripts to Darwin's 15,000 letters.

1. The Digital Scriptorium
An online collection of medieval and Renaissance manuscripts from all over the world. Short of breaking into a museum, there's no better way to view those manuscripts than digitally, since you can zoom in to appreciate the details.
2. The World Digital Library
My favorite "Surprise me"–style book resource. Sure, you can search it, but you can also click the timeline (8000 B.C. to today), click the globe, and kiss your workday good-bye. Where else will you stumble on a gorgeous illustrated edition of a turn-of-the-last-century Guide to the Great Siberian Railway?
3. Project Gutenberg's Pirates, Buccaneers, Corsairs, Etc. Bookshelf
Many people have a passing familiarity with Project Gutenberg and its 42,000+ free books; fewer know that you can search it by "bookshelf." This pirate-y one is my personal favorite, but there are scores of others for browsing everything from detective fiction to erotica.
4. The Emily Dickinson Electronic Archives
The Internet is chockablock with thoroughgoing websites for dead authors, from Beatrix Potter to Franz Kafka. This addition includes vast amounts of Dickinsoniana, including scans of all her extant manuscripts.
5. The Public Domain Review
The old problem with old books was how to find them. The new problem with old books is Whoa, where to start? The Public Domain Review organizes and highlights interesting out-of-copyright works—of all kinds, but its literary collection is excellent.
6. The Darwin Correspondence Project
Writers gonna write, and their letters to, from, and about each other abound on the web. My favorite batch comes from Darwin, who corresponded with everyone from fellow naturalists to his kids. This site contains the full text of 7,500 of his letters and information on 7,500 more.
7. The Digital Public Library of America
Among the newest and most ambitious open-access projects, this one aims to make every offering in our nation's public libraries, archives, and museums freely available online. Its bookshelf contains 1.5 million volumes and counting.
8. The Poetry Archive Historic Recordings
"Into the valley of death rrrrrooooooooode the 600": To truly appreciate "The Charge of the Light Brigade," you must hear Tennyson himself bellow it—as he did, into a wax cylinder, in 1890. That recording and those of 49 other poets are free on this site.
*This article originally appeared in the November 18, 2013 issue of New York Magazine.