Anchorman 2 Is Coming Out Early
The film's release date got moved up two days.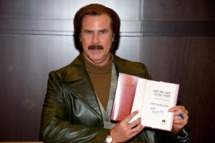 You may think it's a joke and write it down in your diary and laugh about it later, but we're not kidding when we tell you that Anchorman 2 will be here two days sooner than originally anticipated. The Wrap writes that Paramount probably moved up their the sequel "to get a jump on what's shaping up as a very crowded Christmas." So come Wednesday, Dec. 18, you'll have a tough choice between Ron Burgundy's epic do, Bradley Cooper's perm in American Hustle, Tom Hanks's mustache in Saving Mr. Banks, or whatever amusing haircuts are going on Inside Llewyn Davis.