Nobel Prize-Winning Author Doris Lessing Dead at 94
She died in London.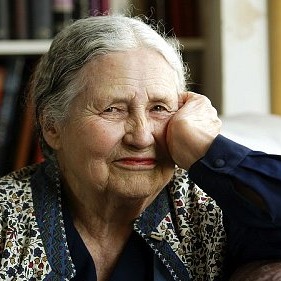 Writer Doris Lessing, author of The Golden Notebook, Memoirs of a Survivor, and The Summer Before the Dark, and dozens of other works, died in London today at the age of 94. Born in present-day Iran to British parents, she spent her childhood and twenties in what is now Zimbabwe, though she moved to London after becoming interested in leftist writing and politics. Lessing won the Nobel Prize in 2007, making her the oldest person to ever win the award for literature.
Here is a very endearing video of her reaction to the win:
Lessing's writing explored apartheid and colonialism in Africa, dystopia in Britain, spirituality, and feminism. Though Lessing shied away from the "feminist" label, the book for which she was best known, 1962's The Golden Notebook, was praised by the Nobel committee as "a pioneering work" that "belongs to the handful of books that informed the 20th Century view of the male-female relationship." They described Lessing herself as "the epicist of the female experience, who with scepticism, fire and visionary power has subjected a divided civilisation to scrutiny."