What to Stream on Netflix and Amazon This Weekend: Modern Black-and-White Movies
<em>Frances Ha</em>, <em>Persepolis</em>, and <em>Escape From Tomorrow</em>.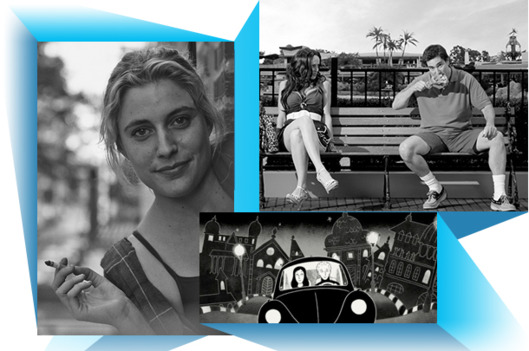 This weekend, as you search for a movie to watch, you can either go see Bruce Dern in Alexander Payne's Nebraska (opening in limited release) or stay home and pick one of approximately 14 billion options available on streaming over a variety of services, be it Netflix, Hulu, Amazon, On Demand, or other sites. Every Friday, Vulture tries to make life easier by narrowing it down to a handful of heartily recommended options. This week, we see the world in black and white with an animated memoir, a poignant coming-of-age comedy, and the Disneyland vacation from hell.
Frances Ha
In twenty years, we'll be revering Frances Ha the way we praise early Woody Allen. Collaborating together on the script for Frances Ha, director Noah Baumbach and actress Greta Gerwig bravely enter the harsh waters of urban millennials. There they find Frances, a sardonic opponent to the "hipster" archetype, though one who's as lost, wayward, insecure, and overly ambitious as any magazine story would have you believe millennials are. Baumbach and Gerwig abandon traditional beginning-middle-end story mechanics in favor of spontaneity; like many of Allen's films, Frances Ha switches gears from comedy to tragedy without wavering in tone. Baumbach's choice to shoot in black-and-white gives the film a bare-bones feel, as if we're looking clear-eyed at this young woman in flux. Frances Ha is one of the best films of the year and an important reminder that, yes, twentysomethings are people too. (Available on Netflix)
Tabu
What would a list of modern black-and-white films be without a wackadoo art-house flick that challenges perception and patience? Presented in the old-fashioned square aspect ratio, Miguel Gomes's surrealist parody tells two stories: The first half follows a woman named Pilar as she learns more and more about her elderly neighbor Aurora, now bankrupt thanks to a slot machine addiction. Though Aurora comes off as a bit loopy — unless dreaming of hairy monkeys sounds ordinary to you — Pilar chases leads to better understand the woman. It leads her to an equally elderly explorer named Gian Luca Ventura, who picks up narration duties for Part 2, a riff on popular adventure iconography and character archetypes. Like last year's Holy Motors, the Portuguese Tabu is a movie about watching movies, a story entranced by the art of storytelling, a movie ready to pull the rug from under those who indulge in its oddities. (Available on Netflix)
Persepolis
If Persepolis was to become a movie, it would have to be animated — cartoonist Marjane Satrapi's black-and-white, ovaloid designs were part of its DNA. Knowing studios like Pixar or Dreamworks wouldn't be interested in investing millions of dollars into a monochrome animated feature, Satrapi took ownership of writing and directing the feature adaptation of her autobiography/graphic memoir, recruiting French animation studios to translate her unique art into moving pictures. Persepolis details Satrapi's teenage years in Tehran, just as a fundamentalist regime comes into power, the Iraq-Iran conflict brews, and Marjane develops a taste for heavy metal and misbehavior. Her countercultural attitude prompts her family to ship her off to a Catholic school in Vienna, which, as it turns out, isn't all that different from the oppressive environment of Iran. The film's animation style allows Satrapi to re-create her memories more accurately, dreamlike rather than photo real. A night on the town can be a swirl of street lights and skyscrapers, while tanks and soldiers plowing through the streets become the shadowy figures of horror movies. Persepolis is a cartoon, but you won't find any talking animals here. (Available on Amazon Prime)
Escape From Tomorrow
Much has been said about the making of director Randy Moore's black-and-white horror comedy. The short of it: With a skeleton crew and strategic planning, Moore and his actors shot the film covertly on the streets of Disney World and Disneyland. But how is the actual movie? The production mythology winds up playing an essential part in the twisted tale of fatherhood. Following the recently fired Jim as he escorts his wife and kids through a vacation weekend at the park, Escape From Tomorrow aims for the psychological dizziness of a Lynchian thriller and only just misses the mark. But the movie succeeds as spectacle; through savvy camerawork and special effect techniques, Moore turns Disneyland into a charcoal-sketched nightmare. Turns out "It's a Small World After All" can get scarier. (Available on iTunes, Amazon)