Bill Murray Joins HBO's Olive Kitteridge
The miniseries based on the Pulitzer Prize<b>&ndash;</b>winning novel.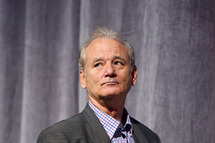 In a recent interview, John Goodman told Vulture his Alpha House costar Bill Murray is a "magnificent wild unicorn." If that's the case, then HBO's feat of capturing the rare breed for the small screen is all the more impressive. According to Deadline, the actor just signed on for the miniseries Olive Kitteridge, based on the Pulitzer Prize–winning novel by Elizabeth Strout. Frances McDormand will play the title character while Murray is "Jack Kennison, a local widower whom Kitteridge befriends." The pair previously appeared together in Moonrise Kingdom as the parents of a girl smitten with a Khaki Scout.